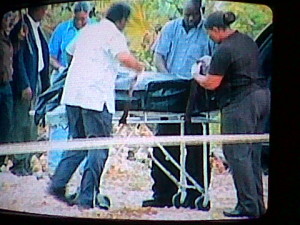 Nassau, Bahamas – We can report police has on their hands another murder incident. Someone has massacred an individual and has left their charred remains in a burnt out car on a track road just off Carmichael road.
According to the police the discovery was made shortly after 11:30 am this morning. The body was burnt beyond recognition.
This latest incident records the 250th murder since 2009.
Police are requesting the public's assistance in locating the person/s responsible for the country 249th murder since 2009. This incident reportedly occurred shortly after midnight on Wednesday 29th June, 2011 at West Dennis Court, Yellow Elder Gardens.
Police discovered the male lying in a yard at West Dennis Court with gunshot injuries to the upper body.
Police have no leads into both incidents, but confirms the Yellow Elder victim is a former police officer who ran a convenient store and web shop adjacent to his residence.
Detectives investigating both incidents are appealing to members of the public who may have any information regarding these or any other incident to contact police at 911, 919, CENTRAL DETECTIVE UNIT 502-9991 or 502-9910 or CRIME STOPPERS at 328-TIPS.