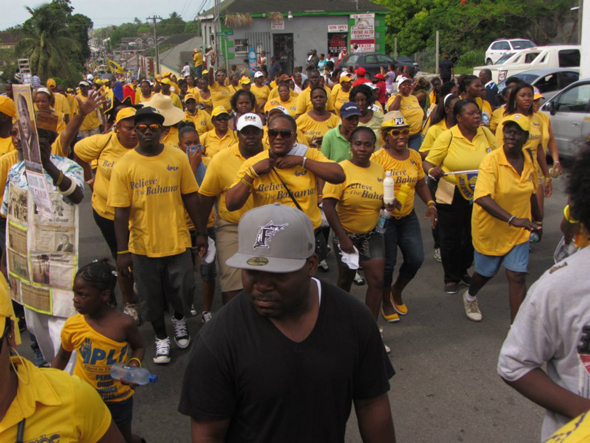 DNA leader Branville McCartney and Rodney Moncur at the DNA's Grill and Chill last year.
Where were the DNA and FNM on LABOUR DAY?
Nassau, Bahamas — Is he well? Or was he afraid to dawn his 'dingy' red t-shirt?
After leading the Worker's Party for many, many years, Comrade Rodney Moncur was invisible on Labour Day.

"It's UNBELIVABLE!
In fact, his DNA leader Branville McCartney was nowhere to be found on the Labour Day march with the workers of this country. UNTHINKABLE!
Bahamas Press finds its purely dangerous by the actions of the men, who claim that they would fight for workers if elected by the people less than one month ago. They could not march with us.
Many would remember last year was no different when the DNA failed to march alongside workers and opted to give out water on the side of the road.
Mark Humes was not seen. The DNA Deputy Leader Chris Mortimer was absent and the others who ran somehow appeared to have abandoned the people and workers of this country.
The fact causes Bahamas Press to lay the question: Who in the hell 'yinner' [DNA] was working for?
Up and down all around this town the DNA was saying they will fight for Bahamians, but today's absence proves they never had any clear vision for the Bahamian workers. They espoused none in the campaign; and Bahamians are NO FOOLS!
This week a bloodbath and axing of workers occurred at Sky Bahamas on Blake Road. The company is owned by the DNA's North Andros candidate Randy Butler! The wutless media, which are handsomely paid through advertising by the airline, reported not a damn word about the firings in the press. MY GOODNESS, days before Labour Day!
The incident proves, if it wasn't for BP, not one Bahamian would know workers were axed!
Which brings us back to Rodney Moncur.

WHO YA WORKING FOR NAH? Who gat you on the payroll to march up and down Nassau and scream foul? When the once vibrant Workers Party's existed, they had a place in the march for years.
To the Bahamian people we want you to take note, and KEEP YA EYE ON DEM! Papa Clown, Rodney Moncur and Branville McCartney. They clearly are all ashamed to stand with and for the Bahamian people!
And every time we look at them we are reminded of the words of Malcolm X words plagiarized by the South Eleuthera candidate, "Ya been had! Took! Bamboozled! Run-amok! And LIED TO"!
We report yinner decide!