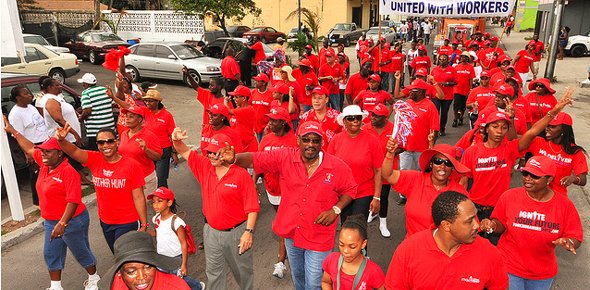 Nassau, Bahamas — Hardcore FNMs are expressing concern following the dismal turnout of supporters at the annual Labour Day march.
Bahamas Press is reporting less than 60 supporters showed up for the parade this morning, which led its way up the East Street hill.
One hardcore supporter told BP, "I am disappointed at the poor turnout by FNMs, who were called upon by our new Chairman to stand ready over a week ago for the event. It is clear no one listened to the Pillsbury who has his own personal problems and cannot handle the command of a national party. We just don't get it!"
Meanwhile thousands upon thousands joined the Progressive Liberal Party on Labour Day in a mad movement of GOLD RUSH!
Every branch in New Providence was represented by the PLP in a show of great support for workers. Another hardcore FNM told BP, "Ya see, this is the same S***! I been telling my party, how could we in the FNM say we are for workers, when we cannot find 100 supporters to walk with them on Labour Day? We have failed the Bahamian workers. Yes, we introduced the minimum wage, but how is it we appear to be do distant from the worker?"
Readers would remember the FNM boasted how its granted and collected millions in work permit fees to undermine the Bahamian worker.
Meanwhile. labour leaders for the first time in five years had the Prime Minister of the Bahamas join the parade. The Rt. Hon. Perry Gladstone Christie marched with workers the entire route as he greeted the Bahamian people along the way.

We report yinner decide…