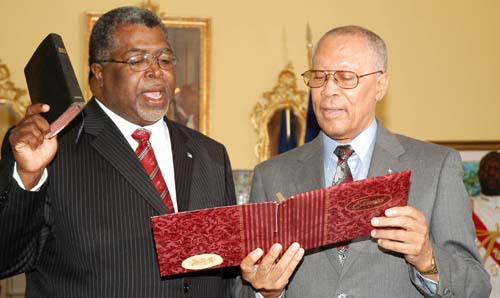 Sir Arthur Foulkes  (right) swearing in Micheal Barnett another strange character in the Ingraham government.
Nassau Bahamas: "No reconciliation until the PLP ends Victimization…ONLY WAR!" Those were the words of Arthur Foulkes as he campaigned as an FNM candidate in the Blue Hills constituency back in August 1987.
Arthur Foulkes made those bellicose remarks to an overflowing crowd of  electrically charged FNMs, whilst rallying supporters at the Golden Gates Shopping Centre. Bahamas Press believes Sir Arthur must be biting his tongue these days now that he himself is the face of VICTIMIZATION in this country. AND WHAT AN UGLY FACE IT IS INDEED!
For the past 10 months Bahamas Press has UNSUCCESSFULLY made requests to Bahamas Information Service [BIS] – where Sir Arthur serves as director – to forward news on the government to our media blog. Bahamas Press – this weekend – was the only local online media outlet continuously updating our website on Hurricane Ike's path. The Prime Minister made many statements we are sure, but we could only publish one sent to us by a friend. NEMA made many others we are sure, but we are not included on BIS news circular and so what can we publish? Here is our country UNDER THREAT and the ONLY website (Bahamas Press) with thousands of active email logged in our system, and BIS is refusing (VICTIMIZING) us information that affects us all.
Should not the global community rightfully know what is going on in The Bahamas? Should not the residents and students abroad know how Hubert Ingraham is building roads, parks, and communities? Should they not be made aware of their government announcements to healthcare services and progresses on legislation to better The Bahamas? Or even better, should not the 400,000 local and global readers be updated on what is happening in this country ONLINE? The local dailies are not consistant in their efforts. With the leading ones having NO WEBSITE AT ALL!
Bahamas Press has continually been denied this FREE wire services of BIS and in that spirit is possibly hoping to censure the progress of this website. The department has declined to respond and COMPLETELY IGNORES, our repeated requests to be placed in their wire service circular. A simple request that is given to every other blog and media house in this country, except Bahamas Press. BIS gives their regular email of news and information to a foreign journalist, but has flatly IGNORED the requests from this collection of Bahamian writers, amazing INDEED!
Bahamas Press is being victimized and ignored. Can someone, please anyone, who can relay this to Prime Minister Hubert Ingraham, let him know of our single concern here. We simply want to show our readers where the government of The Bahamas is doing great things. We want to show balance and present fair judgment by presenting it. But how can we talk about the workings of Ingraham's government when we are being victimized and ignored from his very agency of information, BIS?
Sir Arthur, please listen to your own words of August 1987, "NO reconciliation until the PLP [NOW FNM] ends victimization…ONLY WAR!", have a heart and prove to the world that The Bahamas does not have a functioning government that censures news and information like so many communist and dictatorship countries do. (NORTH KOREA, and ZIMBABWE just to mention a few.)