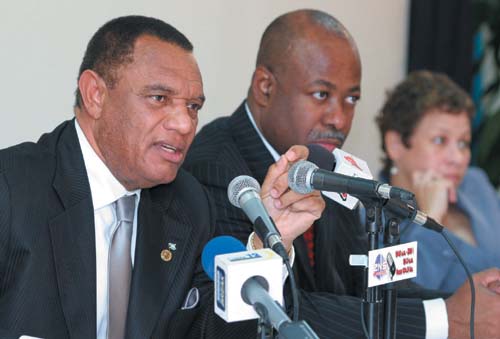 PLP leadership said not a word days after Omar Archer – one of their own – is shot and almost murdered on the streets of the capital. What has become of the PLP these days? Christie, Wilchombe and Hanna at a press conference. (file photo)
Bahamas Press Commentary:
What is The Bahamas coming to these days? Omar Archer a fellow blogger on Bahamas Press and a political activist was shot in the stomach by KILLERS in the Nassau Village area last week Thursday. Up to Saturday police had failed to confirm that Archer was the man shot.
The PLP of which Archer ran for the position of chairman at the last PLP convention, said not a word about the shooting until today, Monday 8th (almost a week later). Where they quoted lines form the 'Wutless' Tribune saying:
"Former candidate for PLP Chairman and community activist, Omar Acher has been shot. According to press reports, Mr. Archer was shot in the abdomen while in the Nassau Village area.
"In an interview with the Tribune, Mr. Archer retold the horrifying experience of how, after being shot, the gunman attempted to shoot him in the head twice but missed both times.
"Mr. Archer was driven to the hospital by a teenage Samaritan. Having gone through surgery, he is now recovering at the Princess Margaret Hospital under tight security.
"Our thoughts and prayers are with Mr. Archer and the Archer family and we wish him a speedy recovery."
It is a DAMN SHAME to see and hear the SLOW LAZY reaction of the PLP to this kind of mayhem and SLAUGHTER today in this country, now being committed against one of their own. Bahamas Press again denounces this crime committed against Archer, and equally condemns the quieting SILENCE and COWARDICE response of the PLP – the party to which Archer publicly supports.
This is totally UNBECOMING OF a party that once claimed to be the voice of the people! The Progressive Liberal Party slowly slipped under Christie command, into an organization stepping in consistent rhythm with today's Ingraham government, out of touch, out of step and mask in ELITISM, even in the face of a public 'bloody slaughter' and attempted murder of one of their own. (IN OTHER WORDS, ARCHER DOES NOT COUNT!)
Bahamas Press cries shame on this reaction by the PLP, AND in particular the silent reaction by their leadership, with their regular SLOW, INDECISIVE and LAZYreaction to times of CRISIS in this country.