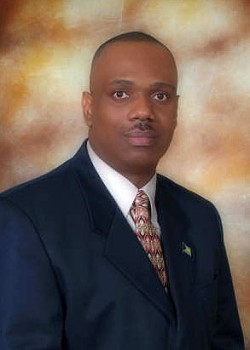 <<<Senator Fredrick A. McAlpine.
Nassau, Bahamas — There are liars and there are DAMN LIARS, Fredrick A. McAlpine is a DAMN LIAR and Bahamas Press will prove it!
On Thursday we reported that a Parliamentarian had beaten his wife and thrown her out of the martial home. We could not have reported that fast enough, McAlpine was on the steps of the Senate building surrounded by cub reporters suggesting that what was reported was not true!
He began crying with those DRY CROCODILE EYES of his saying this was vicious, saying this was wicked, saying it was a DAMN LIE perpetrated against him and his wife, the same woman he threw out in the cold and caused her to move to NASSAU to live with a relative.
Bahamas Press never falls for such tricks. DEFLECTION AND SPIN are the oldest tricks in the media business. We've see this kind of PRESS ABUSE before. The Wutless media in this country gets caught with their pants down in an attempt to cover up one of their blue eye boys, and so they all come out to push the lie by McAlpine. Andre Birbal's incident was no different! The WUTLESS MEDIA came out to say there was NO CASE! You'll remember that?
Well, Bahamas Press cannot help but finish what we started. Mind you, we never mentioned McAlpine's name. We never said it was a reverend. We never said it was a Senator. We never said it was a PLP OR FNM! But the WUTLESS MEDIA went directly to him at the Senate steps. McAlpine told the WUTLESS MEDIA it was him we were after. And so we decided to call up the SIB files of McAlpine in the Royal Bahamas Police Force and see what he has on record, and BOY OHHHHHH BOY, where could we start?
Many of you cannot remember, but McAlpine started out as a wide mouth evangelist in Grand Bahamas. His following there was huge. That crowd which followed was larger than Myles Munroe's following at the time. In fact so large was his following; McAlpine had a TV broadcast that was fed into the United States. Yes, the wide mouth preacher was BIG! Back then he was "DA MAN OF GOD!" But then something happened.
Now what happened to that big following and TV programme we don't know, all his members left. The deacons left, the evangelist left, the junior ministers left. Even McAlpine's first wife left. She could take the abuse of the reverend anymore and so she ran away. She was so desperate to get out of the life of Freddy, she left the church, she left the home, and she left the car, the dog and the cat in McAlpine's care. She didn't want anything to do with him and we wonder why?
According to records, the former Mrs. McAlpine #1 had filed many complains of abuse on the once popular reverend. And she could not take that abuse anymore. And so she filed and signed her divorce papers.
With his church falling apart and his family with it, McAlpine then decided to throw his hat into the political pot, saying like Job, what else do I have to lose. He was a platform speaker for the late Sir Lynden Pindling on the political circuit in the 1992 election platform. Yes many may not remember, but McAlpine blasted Hubert Ingraham. One time he called Hubert a name that has stuck on him to this day, "THE DEVIL". And on the eve of 1997 when Pindling resigned the election win to his protégé Hubert, McAlpine was the keynote speaker at the University of Wulff Road that historic night.
On stage that night, the reverend was preaching on the PLP pulpit saying, "We are fighting for the soul of the nation!" and added, "I am PLP and Proud!" The party to him wasn't a band of "LIMP-WRISTED" warriors then. Hmmmmmmm!
Sometime before that McAlpine was mad. He was angry with Hubert. In fact, McAlpine had lost his church building and Hubert took that same church building and turned it into the Office of the Prime Minister on Grand Bahama.
My, my look how the times have changed. Now McAlpine is an FNM Senator and he's preaching from the book according to Hubert. Now how did this conversion happen? We will give details, which will confirm that REV. Fredrick A. McAlpine is a DAMN LIAR LIKE HIS LEADER MUGABE!
He told a LIE from the PITS OF HELL at the front door of the Senate building! He LIED TO THE WUTLESS MEDIA, and they pushed it. AND HE LIED TO THE GENERAL PUBLIC ON NATIONAL TV! Stay tuned we will tell more as we move onto the next page of his SIB file.