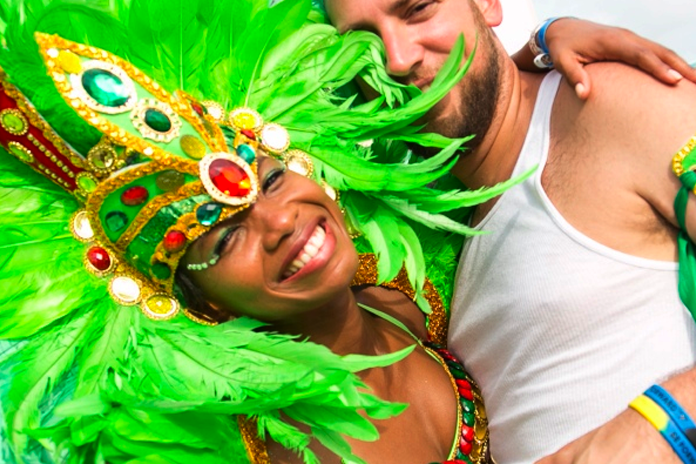 To: The Editor
The Nassau Guardian February 25, column by Front Porch/Simon on "The brilliance of Junkanoo in the Bahamas," caught my eye. I seldom read articles shielded in anonymity as they are usually propaganda pieces cloaked as serious commentary. The NY Times has a tough policy on use of anonymous contributors to its opinion page. "The Times will not allow personal or partisan attacks from behind a mask of anonymity. Anonymity offers the reader no help in determining the reliability of the writer's information and make our decisions to publish appear contrived and conspiratorial". Our local media houses should take note. Now, let's get back to Junkanoo.
In January, the Guardian satirist, Sideburns presented a nostalgic caricature of Junkanoo legends, Winston Gus Cooper, Paul Knowles and Jackson Burnside in a heavenly Junkanoo dance. Junkanoo legend, Percy Vola Francis continues to enjoy God's grace to be with us in this earthly life. I cannot speak for Jackson, but if Gus and Paul were alive and healthy, they would be active participants in Junkanoo Carnival today, along with Vola. Voices such as Simon, who suggest that Junkanoo Carnival makes a mockery of Bahamian culture are spurting narrow, self serving views, with political overtones. Culture defines a people through language, religion, music, arts, food. Our nation developed from years of open immigration. A wonderful cultural diversity is the result of this growth.
Gus, considered the Father of modern day Junkanoo, privately advocated , that the New Year's Day Parade be open to the public, including tourists, with light, colorful costumes offered for sale. Arguably, the most exciting feature in the current Junkanoo parades is the Showtime (female) dancers, introduced by Paul Knowles. Paul show-cased costumes and dance choreography that captured the femininity of the performers. This was directly attributed to his carnival experience. Dr. Nicolette Bethel of COB expressed academic views on the links of Junkanoo and Carnival. "Because of the African contributions to these festivals, the visual aspects of Mardi Gras, Trinidad Carnival and Junkanoo have many connections and during the 1970 -1990's, Junkanoo leaders travelled throughout the Catholic world, learning, borrowing and fuelling innovation in our Junkanoo parade". Gus appreciated the significance of his Valley Boys' contribution to Bahamian culture. His view was that culture was a dynamic and not a static concept, meaning that culture had to adapt to changing times and tastes, or die. For him, the role of culture was not only to educate, but to also captivate and engage the audience. The Valley Boys are now in their sixth decade of promoting Bahamian culture. Gus was cognizant that his beloved group and Junkanoo could not successfully develop by showing the same form to their audience of 2016 as the group exhibited in 1960, with their first victory. There is no question that the costuming "tricks" learnt from carnival artists enabled Gus and the Valley Boys to fascinate their audience over successive decades.
Despite the shared techniques, Junkanoo and Carnival have distinctly different orientations. Dr. Bethel highlighted the differences between Junkanoo and Carnival. She identified that "Junkanoo participants make their own costumes and play, dance to their own music. The process is a critical one linked deeply and ancestrally to invocation of an African spirit. Making these costumes is akin to worship." I have been intimately involved in Junkanoo shacks from a young boy. Each Junkanoo season, there is no change in the mood and feelings of young men and now women in the nurturing, protection and joy of their productions. For them, the Junkanoo costume is their armor for the coming clash of titans. They engage in intense physical practice and long hours of toil for this highly competitive event. The battle cry is, "if you can't prance on Bay, then get out of the way". Dr. Bethel recognized this compelling spirit, in telling us that "Junkanoo privileges the rhetoric of war, Carnival of play and fun." Those who spurt that Junkanoo Carnival will cannibalize Junkanoo, advance a foolish assertion. The 2015-2016 Junkanoo Parades were entertaining and competitive as ever, proving that view illogical.
Festival tourism is an avenue being pursued globally. Major North American and European cities with sizable Caribbean populations host Carnival parades. Dr. Keith Nurse of UWI Institute of International Relations prepared a 2001 report, "Festival Tourism in the Caribbean" for the IDB, concluding "tourist planners have come to recognize the demand-pull of the arts, popular music, entertainment and themed events". The Calabar Carnival in Nigeria, which started in 2004, is marketed as "Africa's biggest street party". Their vision was to make the city of Calabar the number one tourist destination for Nigerians and tourists, build local heritage and culture, and strengthen the capacity of locals to benefit economically. Brazilian expertise was imported to enhance the success of the Calabar Carnival in its early days. Nine countries, including non-African, participated in their 2015 Carnival. Calabar Carnival also features music performers, local and international. Nelly and Kirk Franklin have appeared. The festival gets bigger and grander each year. Nigerian artists are also headliners as festival organizers realized that popular Nigerian entertainers attracted bigger crowds than foreign entertainers. Our Bahamian entertainers must strive to be the top draw at Junkanoo Carnival. The market should determine that position and not a government decree. The exposure now offered to young Bahamian artists to reach a mixed audience of thousands will build their confidence and showmanship. As Gus said, "either you can captivate your audience, or you can't". At the initial Junkanoo Carnival, Machel Montano lit a fire in the crowd. I watched their response in amazement. That's the performance level, top acts, foreign or Bahamian, must bring to the game.
Over 20 years ago at a Junkanoo Seminar, I spoke on The Economics of Junkanoo. The gist of my presentation focused on a comparative review of Junkanoo images on canvas (paintings) commanding thousands of dollars on the open market, versus the inability of brilliant artisans like Gus/Vola, to generate sustainable income from their Junkanoo artistry. Junkanoo is a spectator, war-like, sport that does not easily lend itself to inexperienced, fun seeking, jump- in- the- line participants. Costumes are diligently hand made by the end user over an average 90 day period, with extensive commitment of man hours. As a product, Junkanoo costumes despite elaborate artistic content have nominal economic value. Reflect how these "masterpieces" are discarded in the streets once the Junkanoo parades end. The Valley Boys yearly out-of-pocket spending to entertain the Bay St. crowds approximates $ _ million for supplies and shacks' maintenance. It's reasonable to assume that other major groups incur similar costs. There is no revenue derived. It is all for the thrill of competing and the glory of victory. If Junkanoo Carnival critics assigned similar financial performance parameters to Junkanoo, our historic parades would be deemed a colossal failure. The conclusion of my presentation was, Junkanoo could not be sufficiently commercialized for the economic benefit of those who give so much to it, without forever changing the unique character of Junkanoo. Dr. Bethel buttressed this view in her paper; "The Economic Impact of Junkanoo in the Bahamas" gleaned from studies conducted 2009-2013. Some conclusions she drew were "Junkanoo costs the country more than $18million per year. Costs of hosting it far outweigh the revenue it generates. Junkanoo diverges from similar major festivals in the region in its failure to produce a high return on investments". But she concluded as we all know, that "Junkanoo remains a very fulfilling experience" for Bahamians.
Junkanoo Carnival is the right answer at the right time, to allow Junkanoo artists to exploit their talents commercially. Junkanoo Carnival organizers should place emphasis on Junkanoo Showtime-styled costumes, adapted for long street marches. This would enable those who entertain and excite us each Junkanoo season to garner real returns from their craft. In Brazil, costumes are created by thousands of artisans from Brazil's poorest neighborhoods. A top designer in Brazil can command a salary of $ 250,000. In Trinidad, large bands can approximate 3000 persons. Low end costume prices of $200, can yield $600 thousand in revenues to the group. Junkanoo Carnival can also enhance international exposure for music entertainers in the Bahamas and feature innovative street cuisine, from Bahamian chefs. The country should support these bold initiatives and discontinue the sniping, which only retards the progress of commercialization of Bahamian talent. Statistical reports from our employment enumerators evidenced how Junkanoo Carnival positively impacted employment trends. Consider how the country could be better served, if Junkanoo Carnival was allowed to develop where creation of costumes became a full time enterprise, due to market demand.
The most eloquent and passionate argument for Junkanoo Carnival was made by our own Leader of the Opposition, Dr. Hubert Minnis, perhaps unwittingly. He expressed, "many of our junkanooers spend thousands of their personal money to get to Bay St. at Christmas time. They sacrifice their lives, their time, their family, spending days and nights in the shack, just to go to perform on Bay St." Junkanoo cannot reward them commercially; but Junkanoo Carnival can, with emphasis on costume styles that are more creative than simply, feathered bikinis. Junkanoo artists "wow" us each Christmas season with their exquisite designs. We are obliged to provide opportunities for them, to gain financially from their exceptional talent. Therefore, let us strive to build our Junkanoo Carnival into a powerful entertainment, cultural and commercial enterprise. If we fail, our Junkanoo artists (relative to other Bahamian artists) in the words of Harvard Professor Derrick Bell, will continue to be the "faces at the bottom of the well"
Gary Christie
April 10, 2016