THE FUTURE OF THE BAHAMAS IS SECURE!!!!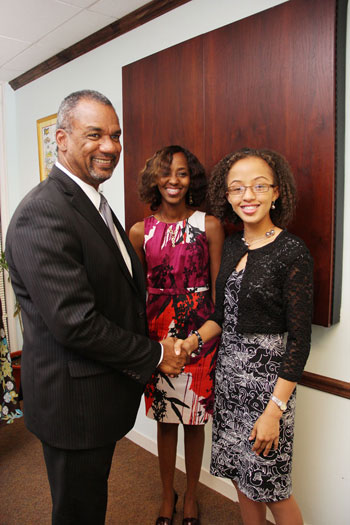 Nassau, Bahamas – Gabrielle Moss, a 17-year-old student of Bishop Michael Eldon School, Grand Bahama, has received the title of All-Bahamas Merit Scholar for 2014.
Ms. Moss is the recipient of a four-year scholarship worth $140,000 at the college of her choice. The Hon. Jerome Fitzgerald, Minister of Education, Science and Technology, made the announcement on Thursday, July 31.
Minister Fitzgerald acknowledged the Lyford Cay Foundation for its continued support of education in the development of Bahamian citizens, particularly youth. He also applauded the Central Bank for continuing to make a significant contribution to the award.
To date, the Lyford Cay Foundation and the Canadian Lyford Cay Foundation have awarded over $25M in scholarships to Bahamians to study abroad and at the College of The Bahamas. They have also awarded technical and vocational scholarships to Bahamians.
Minister Fitzgerald described Ms. Moss as "focused, hard-working, disciplined and multi-talented" one with an "amazing" academic record. She completed high school with a 4.0 grade point average. In grade 12 she passed Mathematics, English Language, Physics, Biology, Chemistry, Combined Science, Music and Religion in the BGCSE Examinations with 'A' grades and Spanish with a 'B' grade. Also in grade 12 she took BGCSE English Literature and Advanced Placement Chemistry, English Language, and Calculus and passed with outstanding grades.
Her extra-curricular activities include: winner of the 2014 Martin Luther King Essay Competition; Ministry of Youth, Sports and Culture Pacesetter Award; National Winner and Grand Bahama Winner for Piano Playing in the National Arts Festival; a member of the Junior and Senior Girls Softball teams, discus throwing at Bishop Michael Eldon School; a school leader and co-captain of her church's youth group; and an ambassador for Grand Bahama and The Bahamas.
She plans to study Applied Mathematics and Statistics, with a focus on Actuarial Science at Johns Hopkins University. Her parents are the Hon. Gregory and Wendy Moss.