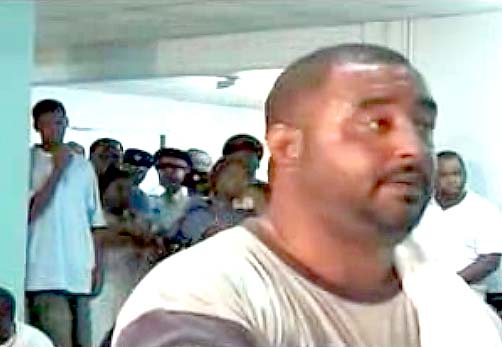 <<< Mr. Troy Garvey, EMRH School PTA President.
Click to listen to Garvey at a press conference this week on ZNS
Nassau, Bahamas –– Once again our hero at BP was in Nassau to expose 'vickedness' in the Ministry of Education and its minister, Carl 'Undernourished' Bethel. This week Troy Garvey was in Nassau teaming up with Bahamas Against Crime president Rev. C.B Moss. Both leaders have decided to join forces to making the voice of the young heard!
Again we know Garvey is a National Hero. Garvey exposed the incidents of SEXUAL SLAUGHTER at the Eight Mile Rock High School back in November 2008. Andre Birbal, who was recently captured by police in New York, fled The Bahamas following an investigation into child molestation crimes at the school. Birbal and his band of 'Clandestine Pedophile Lovers' molested more than 20 boys at school in an after school programme funded by the department of education.
The Ministry's acting director, Lionel Sands and ZNS reporter Clint Watson told members of the public there was "NO CASE" in the matter, however, Garvey and victims at EMRH knew better.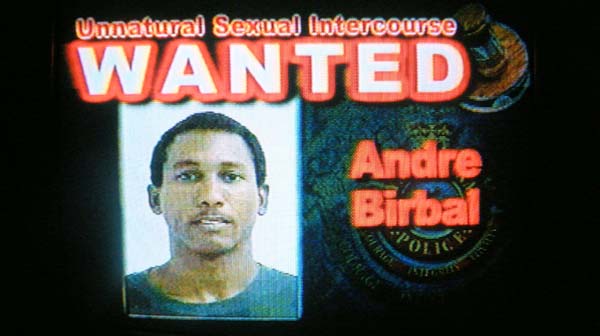 Birbal, after coming to Nassau to be monitored, left the capital whilst members of the GESTAPO Police were conducting an investigation. How was the pedophile alloed to escape out of Bethel's hand? Well, the MOE headed by Bethel allowed the Birbal the pedophile to escape, but not before paying him a handsome cheque from the accounts department in the MOE.
The Nation's Giant Slayer, Glenys Hanna -Martin brought the matter to Parliament and called for a Committee to investigate the incidents at EMRH School. But while the member of Englerston was fighting for the children of the country, the Wutless MP for Eight Mile Rock, Verna Grant went on recorded in her communication asking the Parliament to reject the investigation by the committee. This is incredible! The MP who should be speaking up for the children of her constituency went on record to keep the matter HUSH HUSH! WHAT WUTLESSNESS!
Grants now appears to be collecting a record  of ABUSE of her own, particularly when it comes to incidents in Eight Mile Rock. A resident of EMR tolded BP last week that GRANT would become the first 'one-term' MP for that constituency, EVER. The source told us Grant recently verbally abused some young women of her community who asked for her assistance in a beauty pageant. BP cannot repeat the words told to the young ladies by Grant as this website is rated G. But all we say to Grant is this, "The same way you've REJECTED the children of EMR constituency and kept silent in the Parliament for them, come the next election YOU SHALL BE REJECTED BY THOSE SAME YOUNG PEOPLE!"
From BP to GRANT, BETHEL and MUGABE, "It ain't Long Nah!"