Grand Bahama gets prepared for VAT and do its part to place the Bahamas on the path of financial health!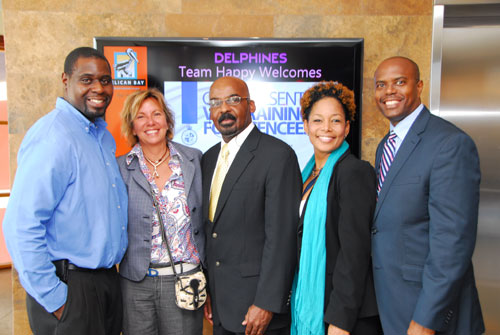 Grand Bahama is on-board and is ready for VAT!
Freeport, Bahamas – The Grand Bahama Port Authority's (GBPA) efforts to assist its licencees with pertinent information regarding the fast approaching implementation of VAT received rave reviews, as day one of the four day initiative began today at the Pelican Bay Canal House, with many being asked to roll over to the following day as the room's capacity was full. Registration for the remaining days are encouraged, as the hosts cannot override the room's capacity.
Nearly 100 concerned persons from the island's business sector turned out for advice and practical assistance on the new consumer tax VAT.
GBPA Vice Chairman Sarah St. George praised the event and noted its significance as it relates to the entity's licencees. "Everyone of us will be impacted by VAT in some form or other. All of this is vital because VAT applied to us here in Freeport will be a bit different to its application elsewhere in The Bahamas. While Freeport should see more exemptions and zero rating, that does not necessarily mean an easier transition"" She said. "So it's very important that we take the time to follow the consumer tax theory and actual mathematics of VAT. I think that by the end of the week,everyone will have a basic grasp of numbers and software programmes as well as formulated new practical questions. I certainly have".
Keith Worrell, VAT Implementation Unit representative served as one of the event's key presenters, in which he pointed out what he hopes to achieve within the session. "The purpose of this exercise today is to try to give licencees a clearer understanding about the way in which VAT would impact their business, as well as the role that we expect them to play in the VAT regime," he said.
VAT Training sessions will continue daily to the end of the week, beginning at 9:30 am each day. Wednesday will focus on the manufacturing and industrial related sectors. Thursday's segment will focus on businesses within the transport related sectors (both passengers and goods), with sessions wrapping up on Friday, focusing on businesses in the professional services sector.