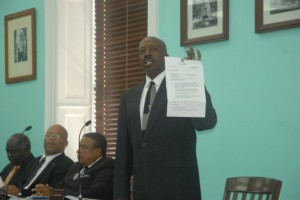 Press Statement
By D. Shane Gibson, JP, MP and Opposition spokesperson for Housing Family of seven evicted by FNM Government Heart Surgeon Senator Dwayne Sands has no Heart
December 2nd 2011
The Progressive Liberal Party listened yesterday as FNM Senator Dr Dwayne Sands the Chairman of the Bahamas Mortgage Corporation started his rampage of eviction on those Bahamians who are unable to meet their mortgage payments on Government guaranteed mortgaged homes. Yesterday's was a shocking report of the uncaring FNM Government, at the onset of the Christmas season, giving notice to a family of seven, including six children, who are now forced to sleep outside in the cold.
The PLP asks, "Wouldn't it have been more appropriate if temporary housing was arranged for this family? What type of heartless Government would put Bahamians, including the little darlings, out on the streets in such an inhumane fashion?"
Last week Senator Sands attempted to justify the position of the Hubert Ingraham FNM Government by saying that the BMC stands to lose almost $80 million through mortgage payment default. But what the public must know is that most of that money is insured and recoverable through the Mortgage Insurance Fund. All Homes in Government subdivisions and most homes financed through the Bahamas Mortgage Corporation but not built in a Government subdivision with mortgages up to $94,500.000, are Government guaranteed and the mortgages are insured. And in recent years, the insured amount has been increased.
Additionally, the Bahamas Government spends millions annually providing health and educational services to illegal immigrants, but finds it acceptable to displace a Bahamian family at their lowest point and most vulnerable state; this act by the state simply cannot be right.
The Progressive Liberal Party in the name of decency is pleading with the FNM Government to immediately cease and desist from this cold-hearted and barbaric practice of dragging families and especially children out on to the streets. Please, show compassion during these extraordinary difficult times. If the consciences of the Members of Prime Minister Ingraham's Cabinet don't convict them to allow our Bahamian brothers and sisters to stay in these houses, then at lease find temporary housing for them.
The PLP is shocked and surprised that Heart Surgeon; Senator Dr Dwayne Sands has no heart.