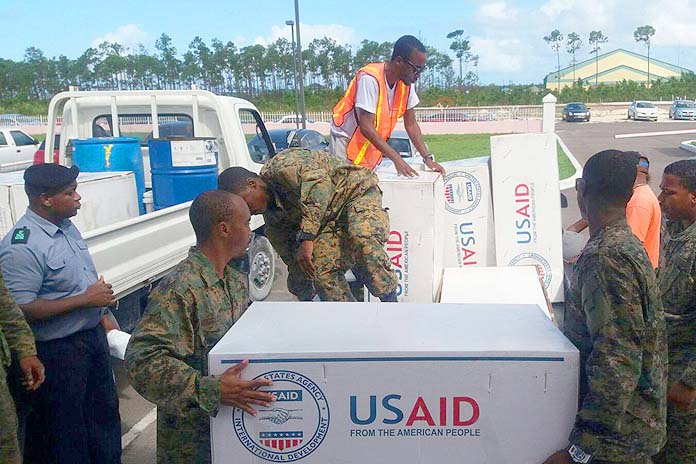 NASSAU, The Bahamas – The National Emergency Management Agency, NEMA, has embarked on a door-to-door exercise distributing tarpaulin to residents in New Providence, whose homes suffered roof damage during the passage of the powerful Hurricane Matthew.
On Wednesday, October 12, a team comprising the Royal Bahamas Defence Force, Department of Social Services, the Ministry of Housing and other volunteers went into the communities to distribute the waterproof material, donated by the United States Agency for International Development/Office of Foreign Disaster Assistance (USAID/OFDA).
The team will quickly make an assessment of the home in the presence of the homeowner to verify that the tarp is needed. The names will be logged in a registry so as to ensure each person in need receives help.
The areas are Garden Hills, Golden Gates, Southern Shores, Pinewood Gardens, Carmichael, Mt Moriah, Elizabeth Estates, Golden Isles and all other areas in New Providence impacted by the severe flooding and storm surge during the Category 3 Hurricane which hit New Providence.
NEMA WILL CONTINUE THE EXERCISE AS LONG AS SUPPLIES LAST.
There will be NO distribution of tarp at the NEMA office on Gladstone Road.
Meanwhile, residents are also asked to go to the following Social Services distribution centres in their areas, Monday to Friday from 9am to 5pm, to register their needs:
Distribution Centre A, Pitt Road, two-storey building next to KFC
Distribution Centre C, old NIB building on Wulff Road
Distribution Centre D, Robinson Road in the old NIB building at Montel Heights
Distribution Centre F, Fox Hill roundabout in the NIB building
{So where is CENTRE B?}