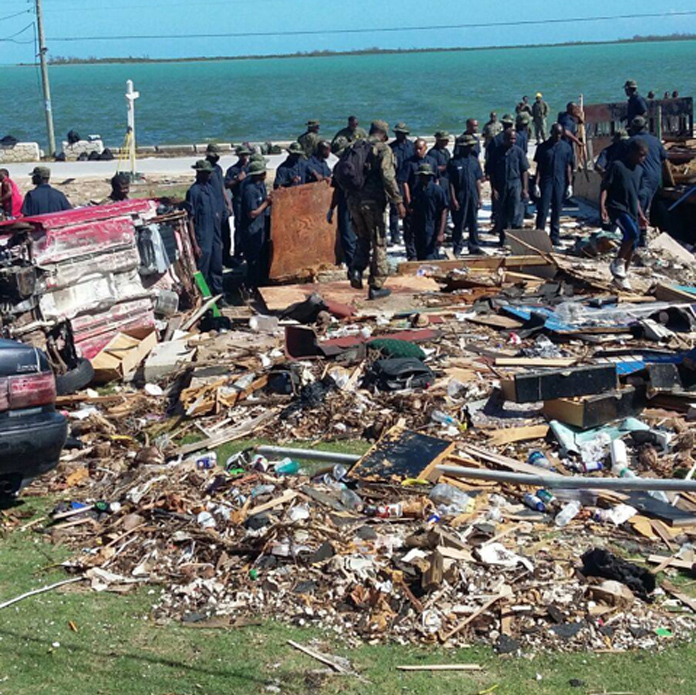 Firstly, I would like to thank God for the fact that we had no deaths during Matthew. I saw a video of a house roof being blown off and instantly wondered if persons were inside the house when it happened. I witnessed a friend in Miami refer to the chaos in preparation for Hurricane Matthew as "Babylon".
What really broke my heart were the pictures of what occurred and continues to happen in Haiti both during and in the aftermath of Hurricane Matthew. There was a picture which went viral of a woman in water up to her chin with her hands raised. She was hoping that someone would see her arms and rescue her. Haiti is a country which is still trying to recover from previous natural disasters and many felt the pain of the people but also respected their constant resilience.
However, with empathy always comes disdain. Some people, credited Haiti's outcome in the hurricane as an "act of God against voodoo" and the mere mortals were quick to analyse the prevalence of voodoo in the Haitian society and the fact that "God is not pleased".
Here in our own beloved Bahamas, there were ministers of the gospel on live radio promulgating a vulgar theory that Matthew was God's way of punishing us! What nonsense! Certainly they couldn't be talking to the One that most Bahamians worship, the one who is so full of grace and mercy.
Who are we to pronounce God's reasons for doing things? I will always be wary of those people who speak on behalf of God and spew hateful or demeaning comments. Quite recently, someone claimed to have a "message from God" for me. My response was, "WTH, I gotta be real dumb because I right here and God could've holla at me".
We can all analyse and give our opinions on why Haiti continues to suffer the way it does. However, the only one with the answers is God. What is admirable is the resilience and pride amongst the Haitian people amid the disasters they experience. We must also remember that at one time, Haiti was the gem of the Caribbean and eventually, all things come full circle.
Perhaps, these sentiments are a reflection of a bigger issue at hand. Truth be told, many Bahamians believe that God is a Bahamian. Many of us say it. I heard a man say so jokingly in the gas station the day before the island was shutdown. As a result, we do not take the warnings of the weather authorities seriously and constantly condemn their efforts and instructions. Many believe the officials were "wasting their time". Similarly, this attitude of lack of caution was seen in the cars on the road during the hours just before the arrival of Matthew.
We have been a blessed people, no doubt about that. God continues to protect us. Many of us have no idea how to adequately prepare for, behave during or imagine what would occur if we were hit by a serious weather system.
In conclusion, I hope that we can continue to pray for Haiti and send any items we can to assist our brothers and sisters. Perhaps, we can cease trying to analyse the ways of God and focus more on helping than on judgement. Thirdly, a lot of the things we say and do would be greatly enhanced if many of us stop believing that "God is a Bahamian" because he is not.