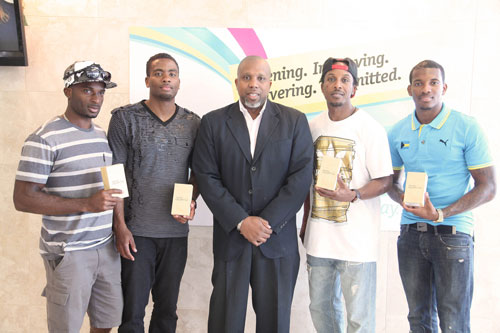 Nassau, Bahamas – BTC recently acknowledged local champions, the 'Golden Knights,' for their April win over the USA and an international field at the celebrated Penn Relays. The Bahamas has never won this event before this year when Chris Brown, Ramon Miller Michael Matthiew and Demetrius Pinder representing The Bahamas, won the day at the prestigious annual, oldest and largest track and field competition in the United States. The four Olympic 2012 Relay champions won a highly competitive race compounded by a baton pass mishap that fortunately, a cool headed Ramon Miller running the last leg, championed, to bring home the Gold Medal win over the USA. The Penn Relays has been staged and hosted by the University of Pennsylvania at Franklin Field since 1895.
Marlon Johnson, BTC's Sr. VP Brands and Communications, spoke at the reception where each of the super stars received a new Samsung Galaxy S5 smartphone, fittingly, with the blazing speeds of the latest and fastest 4G LTE technology advantage.
"BTC sponsored the 4 athletes prior and during the London Olympics in 2012 and we have continued to support them in many ways since. Today we wanted to continue to show our respect and admiration for their prowess as athletes and sportsmen, and in recognition of their ongoing dedication and focused training disciplines. Further, we acknowledge their great influence on the Bahamian youth as role models and ambassadors for the country and we are so very proud of them, and wish them well for their future."
Demetrius Pinder expressed thanks on behalf of the Gold Knights and said that BTC is always appreciative of their efforts. "We are always thankful for what BTC does for us and other athletes and we notice what they do also for many of the communities and activities through The Bahamas. BTC has helped and supported and rewarded us with their sponsorship and I feel sure it is an incentive for the youth of this country to know that they too can be in a privileged position if they focus on their goals and work hard." ## Photo: Golden Knights with new phones & M. Johnson.