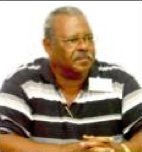 Freeport, Bahamas — Sad late breaking news coming into Bahamas Press tell us a senior government official has died.
BP confirmed on Saturday the death of Bahamas Agricultural & Industrial Corporation [BAIC] Deputy Chairman, Ron Darville.
Darville first suffered a mile heart attack following a freak cutlass attack by his son back in early November.
Police shot and killed, Michael Darville [Ron's youngest son] following his cutlass wielding incident on family members around 5am at the Dampier Drive home in Freeport.
FNMs are gathering in Grand Bahama today, where respects will be paid to the fallen general of the party.
BP sends our condolences to the Darville family. May he rest in peace.