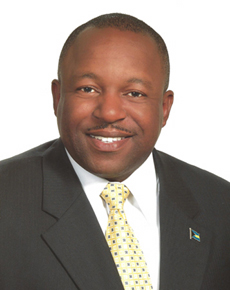 Sunday, 11th December 2011
Statement Issued by Keod Smith, former PLP Member of Parliament and Ambassador, Social Activist and Attorney on Cabinet Firing.
As a former Member of Parliament for the Progressive Liberal Party and national Party officer, I feel the need to publicly dispel the view as espoused by many current Members of Parliament, that Prime Minister The Rt. Hon Hubert Ingraham acted ultra vires his powers or that his firing of as the Minister of Housing was venal or offensive in some way.
Contrary to the views I have heard, read and seen in the media, it is my considered view that the Westminster parliamentary democratic system upon which our government is based, gives the Prime Minister the unfettered right to be rid of any Cabinet minister who transgresses the tenets of that system.
The fact that another senior Cabinet Minister from the Island of Grand Bahama has replaced Mr. Russell as the Minister of Housing, demonstrates that the Prime Minister has support within the Cabinet as well as the Grand Bahama FNM caucus to dismiss Mr. Russell.
I am also discomforted by the fact that Mr. Russell, in what must have been a very emotive situation, chose to use inappropriate language in his public description of the Prime Minister. These comments demonize and vilify the Prime Minister.  Unfortunately, as a result, those comments camouflaged the debate or issue as to whether, in the words of the Prime Minister, Mr. Russell was fired for acting outside of Cabinet protocols.
Prior to his being fired, Mr. Russell appeared in the media criticizing the Cabinet for not giving the green light for a foreign investment project for East Grand Bahama. He has also been in the media discussing his political intentions for the 2012 general election.
While I am not in a position to opine on Mr. Russell's political comments and his aspirations in 2012, I do believe that there is sufficient substance to the argument that he may have he crossed the protocol line when he allowed himself to be publically engaged in matters which he knew were before the Cabinet.
Under our Westminster system of government, he is not permitted to do this.  This is cause for immediate dismissal if not resignation from the Cabinet.  We should go to great pains to make sure that the Bahamian people fully understand how the Westminster system works.
Since last Friday, the country has been deluged with a series of irresponsible and highly emotive comments coming from active and high profile politicians.  Regrettably, most of these comments simply amount to vindictive personal attacks on Mr. Ingraham.
As a Bahamian politician of a new order, intent on re-negotiating a fresh ambitious new political dogma in The Bahamas, I cannot subscribe to these venomous statements nor allow them to stand unaddressed.  Mr. Ingraham can be rightly or wrongly criticized for firing Mr. Russell, but it is just patently wrong for serving Parliamentarians to use language which demonizes the Prime Minister and speak to his Godliness or his soul.  This cannot be the language of enlightened men and women.
Furthermore, such language puts into the public domain, the opportunity for further cynicism and distrust of all politicians and lends to this vicious psyche or misunderstanding that as a people, we are unable to debate an issue without getting personal.
It is no wonder that the illustrious Leader of the PLP and the Official Opposition, The Rt. Honourable Perry Christie, has not lent himself to this sort of comment and conduct.  It would appear, as is expected, that if he forms the view that his comment is merited, he will carefully weigh what is to be said before making any utterance and stepping into this foray.
Surely, Mr. Christie understands the Westminster system as he was appointed under it by former Prime Minister, Sir Lynden Pindling, as well as dismissed in pursuance of those tenets along with Mr. Ingraham in 1984.
Even in those circumstances, neither Mr. Christie nor Mr. Ingraham used against Sir Lynden, the language that Mr. Russell has now used against Mr. Ingraham.  The Leaders of the FNM at that time did not refer to Sir Lynden as an ungodly man or without a soul.  And neither did the public discourse descend to such levels of vitriol.
As Prime Minister, Mr. Christie also had occasion in the last part the 2002-2007 PLP term of government to "reluctantly" accept the resignation of one of his Cabinet Ministers who, just like Mr. Russell, may have been invited to resign before Mr. Christie had to act to protect the ancient system under which our parliamentary democracy is based.
I am resolutely committed to do my part to ensure that my party is returned to the governance of The Bahamas in 2012, but I will not compromise my principles by allowing myself, for political expediency, to improperly demonize the holder of the high office of Prime Minister.
The country should expect no less.
…………………………………………………
KEOD SMITH