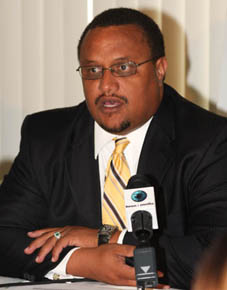 By GREGORY MOSS
It is really unfortunate that some people prefer to engage in character assassination than in healthy dialogue. If you have constructive questions just ask.
I was born in Englerston in Nassau and brought up on Key West Street. I am the 6th of 9 children born to a single mother. When I was born my mother was only 24 so we grew up hard. We moved to Freeport in 1973 and moved from one rental to another until we finally ended up in the biggest ghetto in Freeport at that time. It was called Zia (located on Fiddlers Green off Sargeant Major Road) and has since been torn down.
To survive we sold newspapers, peanuts, shined shoes and spent four years getting our food out of the garbage at the back of the Winn Dixie and Food Fair supermarkets. My mother was a maid all her life and died as a maid.
I went to school at Columbus Primary in Nassau until 3rd grade and then when we went to Freeport, I spent 4th grade at the temporary school at the Immigration Department building, then a year at Bartlett Hill Primary in Eight Mile Rock, then 6th grade at Hawksbill Primary. Seventh through 10th grade of High School were spent at Hawksbill Hill School.
Then in the 10th grade my grades plummeted because there was a bus strike and I had to hike and walk to school in Hawksbill each morning from Zia. I applied to Freeport High over the summer break and was accepted. To pay the Freeport High School tuition, I got a job as a bellman at Silver Sands Hotel over the summer of 1980 (where my mother was a maid) and worked there every weekend for 3 years to pay my way through Freeport High School (since I had to repeat 10th grade when I transferred there from Hawksbill). I also worked for a while closing up the school after night classes at Freeport High to help pay my school fee.
I went to COB on a scholarship and worked at McDonalds near COB in Nassau to pay my way through COB. Then I went to University of The West Indies on another scholarship. I was diagnosed with my first ulcer at age 23 and during my university studies was admitted to the hospital three times, and had one blood transfusion, as a result of it.
Life has not been easy for me and I am at a complete loss as to what elitist life some people are talking about. As I said, if you have constructive questions, just ask. If you want to continue to engage in these attempts at character assassination then do not be surprised that I will simply ignore you.
As to the pending elections in Marco City, I think that Hubert Ingraham has expressed the matter best. By reconfiguring all of Grand Bahama merely to add four supposedly FNM polling divisions to Marco City, he has made it clear that the FNM is well aware that prior to that reconfiguration I would have resoundingly won Marco City. Otherwise, why would he have gone to that effort?
But his effort has been in vain because I will still (God willing) resoundingly win Marco City. No level of gerrymandering will make any difference. People are not pawns. And the gross neglect of Grand Bahama by the FNM will not be forgotten or forgiven.