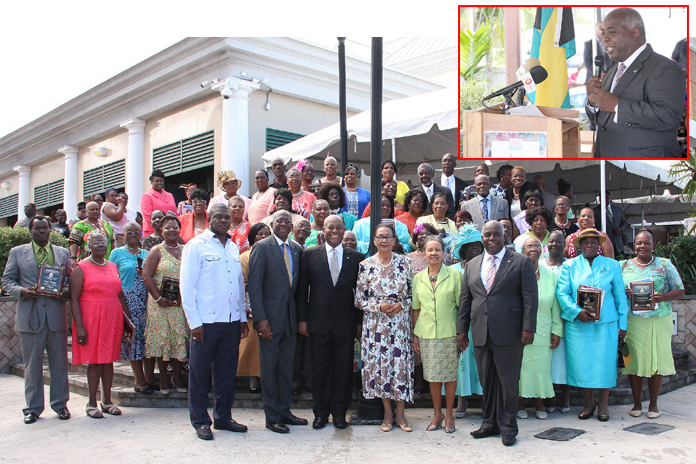 NASSAU, The Bahamas – Fifty-nine straw vendors, straw practitioners and wood carvers representing seven markets throughout The Bahamas were recognized for their contribution to the industry and the development of the country during the Straw Market Authority's 4th Appreciation and Recognition Day, September 22, 2016.
The special ceremony held at Woodes Rogers Wharf, just outside of the downtown Straw Market, was a part of Straw Market Appreciation and Recognition Week, which officially began on Sunday with a service at Christ Church Cathedral.
Family members and friends of the honourees, members of the Straw Market Authority and Board attended the event. State officials in attendance included Governor-General, Dame Marguerite Pindling; Deputy Prime Minister and Minister of Works and Urban Development the Hon. Philip Davis; and Minister of Tourism the Hon. Obie Wilchcombe.
The Bahamas Correctional Facilities Pop Band provided music for the event.
Kevin Simmons, Chairman of the Straw Market Authority, described the vendors as the foundation that the modern Bahamas is built upon.
He said, "Honourees, you can be proud of the foundation you laid for our Bahamas. Every sector of our society has a connection to the straw and wood carving industry. Thank God for your ability to build such a sound foundation."
The Deputy Prime Minister offered congratulations to the vendors for the honours earned.
"Too often, we hear complaints of joblessness. Today, we have before us entrepreneurs. There are some characteristics in work and life that you just cannot teach. They form from within, and over time, they become part of who we are," he said.
"As entrepreneurs, you determine every day how you approach life and your life's goals. By your very nature, you are optimistic. You spend very little time thinking about what you cannot do, but instead, you always tell yourself what you can do. As a developing country, we need more of you."
The Governor-General and the Deputy Prime Minister awarded the honourees plaques of appreciation.