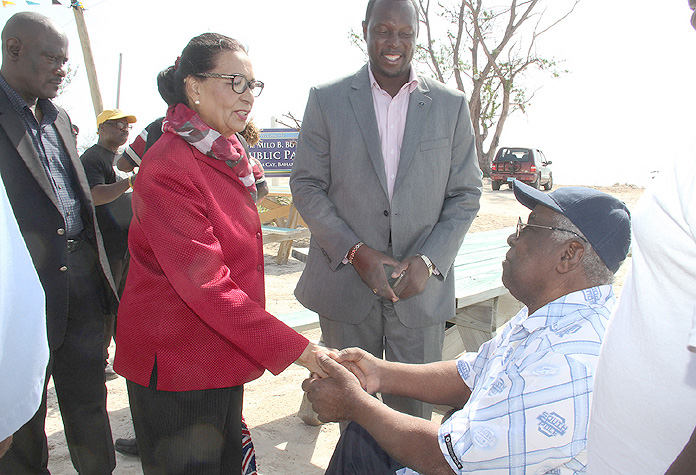 REMARKS BY HER EXCELLENCY THE GOVERNOR-GENERAL
REGARDING THE EFFECTS OF HURRICANE MATTHEW
My Fellow Bahamians and Residents,
Having just suffered the most severe Hurricane to have affected The Bahamas over many years, I am sure that, all would agree that above all, we owe a deep sense of gratitude to Almighty God, through whose power alone we have been brought through this most destructive weather.
I wish particularly to express my concern for the people of North and Central Andros, and Grand Bahama, where Hurricane Mathew has caused severe damage to property, and which has resulted in many material losses for our friends and relatives in those areas.
Here, in New Providence we also felt the fury of the Hurricane, and there has also been widespread damage to property everywhere.
However, in all of this, we have been fortunate that no lives were lost as a direct result of the storm and our task is now to unite and rebuild our communities for the common good.
As Bahamians we have always been well-known as a resilient people, and this Hurricane provides yet another opportunity for us to demonstrate that spirit of oneness and love for our neighbours which has always been a hallmark of who we are as a one united people.
Like you, I have heard of many heroic acts by men and women who, during the height of the storm, took the time to save the very lives of their neighbours and friends. These acts of bravery are very worthy of recognition, and I trust that their spirit of care and action can become fully known across our country, so that the world will see the concern and care which we have for each other.
I take this opportunity to applaud the National Emergency Management Agency (NEMA) as well as all the other organizations which have come forward under the Government's mandate to begin the task of rebuilding and redeveloping our communities.
This action by our Government and NEMA, together with regional organizations, churches, The Red Cross Society, civic, fraternal and other organizations also provides an opportunity for all of us to be generous in contributing whatever we can to aid those who have suffered the loss of their houses, businesses and property.
Our generosity will result in support for the projects and programs that are designed to rebuild and redevelop our communities, so that they may again be vibrant and beautiful places where our people can continue to live in dignity and peace.
Let us then, together, display that manner of meaningful care and love for each other, so that our reputation as Bahamians and residents will remain the perfect example for others to emulate.
Remember, above all, to join in prayer for those who suffered losses, and for the continued unity of our beautiful archipelago.
I wish to express my personal sympathy to all who are deprived as a result of the Hurricane, and I assure you of my continued prayers.
May God bless you, and may He continue to bless the Commonwealth of The Bahamas.