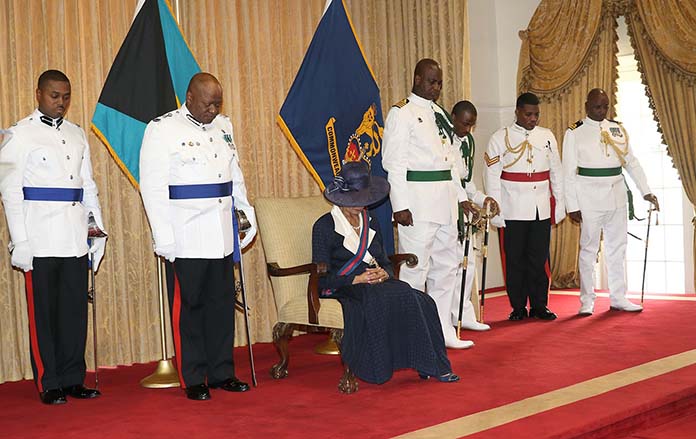 NASSAU, The Bahamas – Award winners, guests, staff, members of the armed forces and Her Excellency the Most Hon. Dame Marguerite Pindling, Chancellor and Governor General, honoured the life of slain Inspector Carlis Blatch, former Aide-de-Camp to the Governor General, with a moment of silence during a Queen's Honours Investiture on Thursday, September 20, 2018.
Inspector Blatch was fatally wounded Wednesday, September 12, 2018, the eve of the day that the Investiture ceremony was originally scheduled to take place.
In her welcome to Government House, Mount Fitzwilliam, Permanent Secretary to the Office of the Governor General, Anita Beneby said Inspector Blatch was "an integral part" of all state functions at Government House.
"His presence is missed and his role is not easily filled. We pause here, in a moment of silence to pay respects to the memory of Inspector Blatch, aide par excellence, colleague and friend," she said.
A memorial has been placed for the former Aide-de-Camp in front of the administrative office of Government House.
Receiving the British Empire Medal at the Investiture were Captain Vernon Ritchie and Mr. Bennett Minnis for dedicated public, business and community service.