Grand Bahama has suffered with 9 hurricanes since 1999!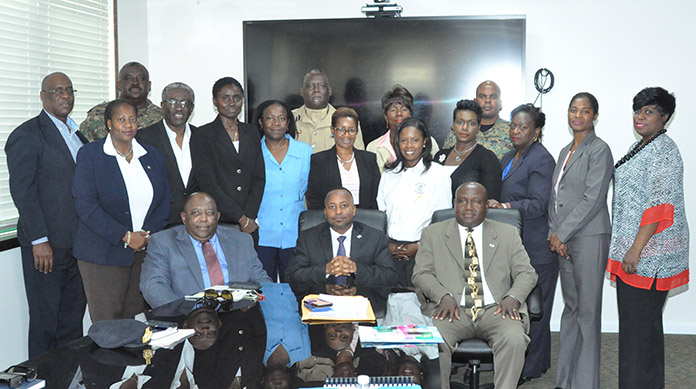 FREEPORT, Grand Bahama – The Hon. Kwasi Thompson, Minister of State for Grand Bahama in the Office of the Prime Minister, on Wednesday reminded residents that the 2017 Hurricane Season is officially underway.
"I wish to remind the public that hurricane season begins June 1. While we pray that we are not affected, the island must ensure that we are all prepared," Minister Thompson said during a press conference at the Office of the Prime Minister situated in the Harold DeGregory Complex on Wednesday afternoon.
Minister Thompson assembled all the major players for the press briefing. They included the three Family Island Administrators for Grand Bahama, senior officials from the Police and Defence Force, and the top brass from Tourism, NEMA, Ministry of Health, Environmental Health Services, Department of Social Services, Broadcasting Corporation of The Bahamas, and Ministry of Works.
They were each called upon to give an update on hurricane preparedness as it relates to their respective departments.
The Minister said "as we prepare of the 2017 hurricane season, I invite all Grand Bahamians to be mindful of the fact that hurricanes have left their scars on our various communities, especially so since 2004, 2005 and in more recent times, devastated the island of Grand Bahama in 2016 when Hurricane Matthew severely impacted our social and economic life.
"As we approach the 2017 hurricane season, Grand Bahamians everywhere must take the necessary steps and make proper decisions to protect their property and businesses," he stated.
He said the senior members representing NEMA and other government agencies have been working on preparedness mitigation and response plans to ensure that proper procedures and protocols are followed to avoid any unforeseen measure or circumstance.
The Minister also announced that there will be a series of meetings throughout Grand Bahama with the view of bringing assistance to persons who have not received any help in recovering from the last storm.