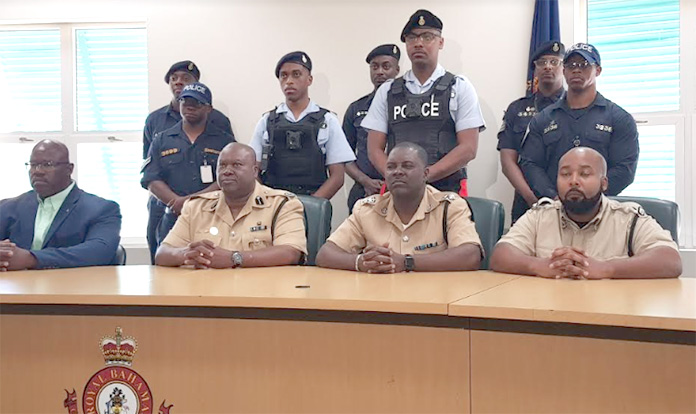 FREEPORT, Grand Bahama, The Bahamas — A promise made by Commissioner of Police, Mr. Clayton Fernander to the district of Grand Bahama was fulfilled on March 31, 2023, when bodycams for police officers and Shot-Spotter went live for the first time in Grand Bahama.
"We would like to thank the Commissioner of Police, Mr. Clayton Fernander for keeping his word and blessing Grand Bahama with these technological advantages that will definitely assist us with the prevention, detection and reduction of crime," said Mr. Theophilus Cunningham, Assistant Commissioner of Police, and Officer in charge of Grand Bahama and the Northern Bahamas District, during a press conference at police headquarters on Sunday, April 2, 2023.
ACP Cunningham noted that police officers would normally be deployed and equipped with body-worn cameras to provide a detailed recording of police officers' interactions with members of the public.
"This technological advantage will ensure that police officers understand their legal obligation to the public and that they are accountable for their actions," added ACP Cunningham. "Additionally, they will also ensure that our community partners understand that we are transparent in the way we execute our duties."
Close to 200 bodycams have been provided to the officers in Grand Bahama. The provision of the technological equipment to Grand Bahama is a part of the Commissioner's policing plan, Priority Six, which is linked to optimizing tech and crime prevention and police operations.
Inspector Brian Outten, Officer in Charge of the Communications branch of police in the Northern Bahamas, noted that the Royal Bahamas Police Force is modernizing its information, communication, technology systems with the use of body cams, along with dash board cameras, to accurately document police interaction with the public during arrest and critical incidences.
"At the same time," he added, "this technology provides corroborating evidence of an event and enhances the accuracy of contentious situations for investigations, as well as for prosecution purposes. The purpose of this policy (Priority Six) is to outline our distribution and management and acceptable use of body-worn cameras. This is to reduce any situation between the public as well as police officers, while providing a first-hand account of these encounters, to aid the transparency and building trust in the public.
"The body-worn and dashboard cameras will also minimize distractions and ensure that police officers are alert. Also, it will ensure that police officers conduct ourselves in a manner which upholds the values, integrity and reputation of our police force."
Additionally, Shot-Spotter was launched on March 31st as well. According to Inspector Outten, Shot-Spotter is basically a system used for gunshot detection. It works as a 911 for shots that are fired. The system uses a triangulation method, along with sensors to let police know (by computer) exactly where shots were fired.
"It also improves our evidence collection," said Inspector Outten. "We recover more casings, locate more witnesses and we identify shootings faster. It also disrupts the shooting cycle. Shot-Spotter itself fills the gap of a network by acoustic sensors that can detect, locate and alert police to nearly all gun incidences.
"The system is used by police to: 1) Be able to respond to a higher percentage of gunfire incidences; 2) Improve the time police arrive on a scene; and 3) Help the police locate the evidence, identify and prosecute suspects."
Inspector Outten clarified that unlike bodycams that will be worn by police officers, Shot-Spotter is a system that is placed in various communities and connected to a computer system at the police headquarters. He said that they are expanding the number of communities in which Shot-Spotter is being connected.
ACP Cunningham noted that these advancements in policing are an indication that Grand Bahama crime fighting methods have come on par with those used in Nassau, the capital, and as such, Grand Bahamians should feel more confident that the police force is taking additional measures to make communities in Grand Bahama safer.