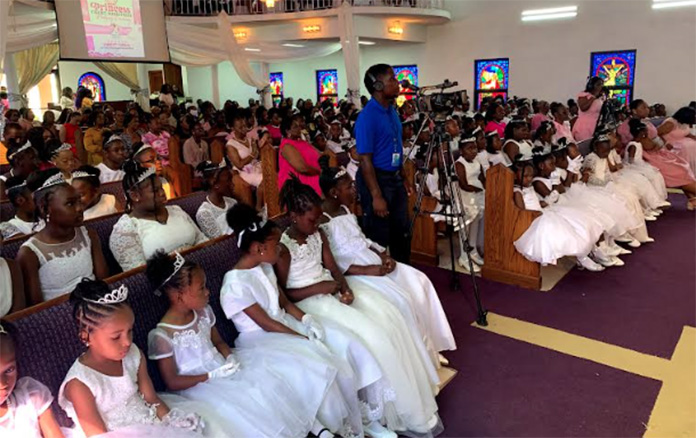 GRAND BAHAMA, The Bahamas – Minister for Grand Bahama, the Hon. Ginger Moxey was on hand to witness the pledging ceremony of 42 girls from throughout Grand Bahama under the Princess Court Ministries at Central Zion Baptist Church in Eight Mile Rock on Sunday, April 2, 2023.
The program, which was founded by Minister Stephanie Burrows, and encourages girls to become Godly homemakers and leaders and to enhance their spiritual lives, is now celebrating 16 years in the Grand Bahama community.
Minister Moxey, a native of Eight Mile Rock, pointed out that hers is a story that represents perseverance, courage, determination and what the young girls have been taught throughout the Princess Court Ministries program.
"I am so grateful for Minister Stephanie Burrows and the time and dedication that she has given to this program and what means so much to these young women," she said.
"We need mentors like ourselves in order to guide our women for the future and so it is an extremely great honour for me to be here, home, and stand before you today and witness this critical moment in the lives of these young ladies.
She acknowledged and congratulated Mrs. Burrows and the ladies who have partnered with her in such an endeavor.
"Your dedication and commitment to teaching young girls the principles of etiquette and mentoring them towards becoming Godly homemakers and leaders are truly inspiring," Minister Moxey said.
She also assured the newest pledgers that the principles they have learned in the program are like a light that will guide them toward becoming well-rounded women leaders.
Just before the young girls were adorned with their purity pearl, Minister Moxey told them that in today's society, the world often tells us that our achievements, wealth and status defines success, however, she reminded them that true success is not found in these things, but rather in the person they become.
"I want to emphasize the importance of women leaders in our society. Women have unique strengths and perspective that are needed in all areas of leadership, including business, education, the church and government. I believe that when women are given the opportunity to lead and contribute their talents and skills, our society is better off for it," she said.
"I am proud of you and I want to congratulate everyone who has pledged their commitment to Princess Court Ministries. I trust that the principles of etiquette, Godly living and leadership you learn through this program guides you toward becoming the leaders I know you are capable of being."
Senator Kirkland Russell and his wife, along with Sadena Neely, consultant and head of the Youth Division in the Ministry of Youth, Sports and Culture, were also among the dignitaries and special guests attending the the special ceremony.