Grand Bahama is more prepared than Nassau and other Islands!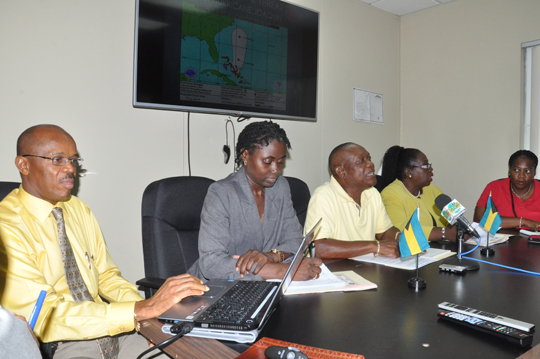 FREEPORT, Grand Bahama – Chairman of the Grand Bahama Hurricane Committee Charles King on Thursday told Grand Bahama residents to be on the alert and not to take Hurricane Joaquin lightly.
The Senior Family Island Administrator, with responsibility for the City of Freeport, held a press briefing at NEMA's Command Center in the National Insurance Building Thursday morning.
He was joined by Debra Cox Strachan, Administrator for East Grand Bahama, and Brenda Colebroke, Administrator for West Grand Bahama.
As was the case with previous press briefing Mr. King also invited all stakeholders to attend and give a report on their state of readiness.
On Thursday agencies such as Urban Renewal, Social Services Department, The Red Cross, Police and the Royal Bahamas Defence Force, Grand Bahama Utility Company, Grand Bahama Airport Company, Grand Bahama Power, Ministry of Health, Department of Environmental Services, NEMA's Warehouse manager, Ministry of Education and more all gave an update on their preparedness.
Mr. King noted that while the experts feel that the storm will steer away from Grand Bahama that we must prepare for any eventuality.
Even as he spoke, Hurricane Joaquin was causing massive flooding and damage to many homes in the southern Bahamas. The Category III storm was packing winds in excess of 125 miles per hour and further strengthening was expected.