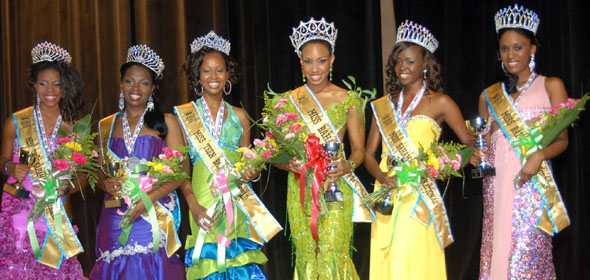 Its official, the Bahamas's 2011 representatives to the Miss Earth, Miss International, Miss Progress International, Miss Princess of the World, Miss Teen Universal and Miss Teen Worldwide International pageants have been elected.  Before an enthusiastic audience, outgoing queens along with contestants for the "Go Green Divas" Miss Bahamas and Miss Teen Bahamas Triple Crown pageant took to the stage swaying to the beat of Kate Perry "California Girls" in their opening production wooing judges, sponsors, family and fans.
During the gala event, contestants were judged in national costume, swim suit, evening gown and final question segments. The national costume segment dubbed "Things Bahamian" showcased things indigenous to the Bahamas, the evening segment was full with charm as the reigning Little Miss Bahamas queens and some of the 2011 Little Miss Bahamas Pageant contestants served as little sisters to the contestants accompanying the beauties on stage and the sizzling hot swimsuit segment was sponsored by Le Bleu and Celsius. Other major sponsors included Ministry of Youth, Sports & Culture, Compass Point Resorts, Nature's Pearl, Wyndham Nassau Resorts, Sheraton Cable Beach, Sasha Cosmetics, Fine Faces, Donald's Photography and Mount Tabor Protocol Team. Host and Hostess for the evening were media celebrities Clint Watson and Shenique Watson. Entertainment was provided by world renowned Shaback recording artists, The Hype Boys dance group and Bahamas's Super Talent winner Shandell. The pageant was producer and choreographed by the Bahamas's leading choreographer Olin Sha Coakley.
At the conclusion of the evening, Grand Bahama resident 26 year old Kerel Pinder former Bahamian beauty queen and pageant contender walked away with the covetous title of Miss Earth Bahamas. Ms. Pinder being a favorite of the audience also carried the bulk of category awards including talent, interview, best costume; spokes model and float queen awards. Ms. Lakindes Brown an international beauty title holder – Miss Progress Ambien, provided the judges with confirmation that she would represent the Bahamas well at the Miss International Pageant and was crowned Miss Bahamas International. The multi-talented and naturally beautiful gem, promises to make a grand mark at the 2011 Miss International Pageant being held in China. The Miss Bahamas Progress was won by the Bahamas's 2009 Teen queen, Shaquel Demeritte. She is one of few Bahamians to have held both of its country covetous beauty titles Miss Teen Bahamas and Miss Bahamas. The 5'9, 21 year old beauty also carried a number of category awards.  Miss Princesses included Tyrhonda Knowles who was elected during one of the preliminary competition as Miss United Nation Bahamas being held in Tanzania later this year and Monesha Rolle who will represent the Bahamas at the Positive Runway Model competition, her earned representation after winning the pageant's Top Model award.
In the teen category – Miss Teen World Bahamas is 17 year old Jazmand Nixon. Ms. Nixon pageant coach was her sister former Miss Bahamas Universe Denia Nixon. Like her new pageant sister Ms. Nixon carried the bulk of the categories awards including talent, judge's interview, float parade, spokes model choreographer top choice, Miss Popularity and Miss Photogenic. 17 year old, Antonique Williams was crowned Miss Teen Universal Bahamas and will represent the Bahamas at both the Miss Teen United Nations and Miss Teen Universal Pageants. A deemed dark horse, emerge to the winners circle and wooed the judges. Miss Debonair Boutique another crowd favorite walked away with the prestigious title of Miss Teen International Bahamas, the brown eye beauty will represent the Bahamas at the Miss Teen Worldwide Pageant being held later this year. Princess in the teen competition were second place   Genique Bodies sponsored by Bodie Enterprises and first place Ronice Shepherd who vowed to sharpen her skills and return for the top crown.
In tearful good-byes, on hand to crown the 2011 beauties were outgoing queens Aquelle Plakaris Miss Earth Bahamas, Carlrita Robinson Miss International Bahamas, Myah Walker Miss Teen World Bahamas, Alexcia Sargeant Miss Teen Universal Bahamas and Tazhmoye Cummings Miss International Bahamas. Organization President Ms. Gaynell Rolle, laud the outgoing queens as the true essence of sisterhood, "together they have stood the test of time, emerging as polished, purposed and focused gems. The queens will now be inducted into the Bahamas's Beauty Queen Hall of Fame, proving that they have been tested, proven and tried serving with excellence." In response to her thoughts of this year's pageant Ms. Rolle stated "The Go Green Divas, has shown to the rest of the Bahamas that they are serious about saving our earth, they planted trees across the Bahamas, committed themselves as contestants to a go green platform and delivered a spectacular competition to viewers and judges alike. They all deserve to be applauded for their tenacity, perseverance and willingness to serve and represent the Bahamas aboard. Even though only six of them will continue the cause for this year, they know that collectively they represent the entire "Go Green Divas" team of 2011".  She thanked pageant and contestants sponsors, supporters and the mother international franchises for their continued support.