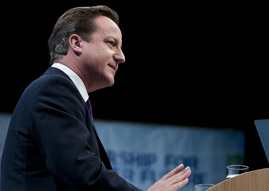 This Government's driving mission is to help Britain succeed in the tough global race we're in. That means reversing years of decline under Labour. Building a buoyant economy that invents, makes and sells things again. Creating the good, decent jobs that young people need.
That's why I gave a speech yesterday making clear that there can be no turning back from the course we are on.
Yes, times are tough, and yes, there are calls for us to turn back, give up, give in. But as Conservatives know, nothing worthwhile is easily won. We need to hold our nerve and stick to our economic plan:
Showing the world that Britain is open for business. Corporation tax cut, red tape stripped back, new tax breaks for start ups.
Dealing with the deficit. Getting a grip on our deficit and keeping interest rates low – to make life easier for homeowners and businesses across the country.
Sorting our banks out. Taking tough action to make sure our banks are lending to small businesses – and making sure they can't collapse in the way they did before.
This is our plan – and we're making progress. Over a million private sector jobs have been created since the election. The deficit is down by a quarter. Exports to Brazil up by half; to India more than half; to China almost doubled.
And that's why more than ever we've got to reject Labour's calls for quick fixes. They say we should borrow more. But do you know how much? £200 billion more borrowing – £3,200 more debt for every person.
So we are rejecting the easy ways out. We are sticking to the course. We are going to finish the job we started to get our economy – and our country – fighting fit and standing tall.
David Cameron