Louis Bacon Save da Bays WE March crew now wants to march against the fires…We believe they started them!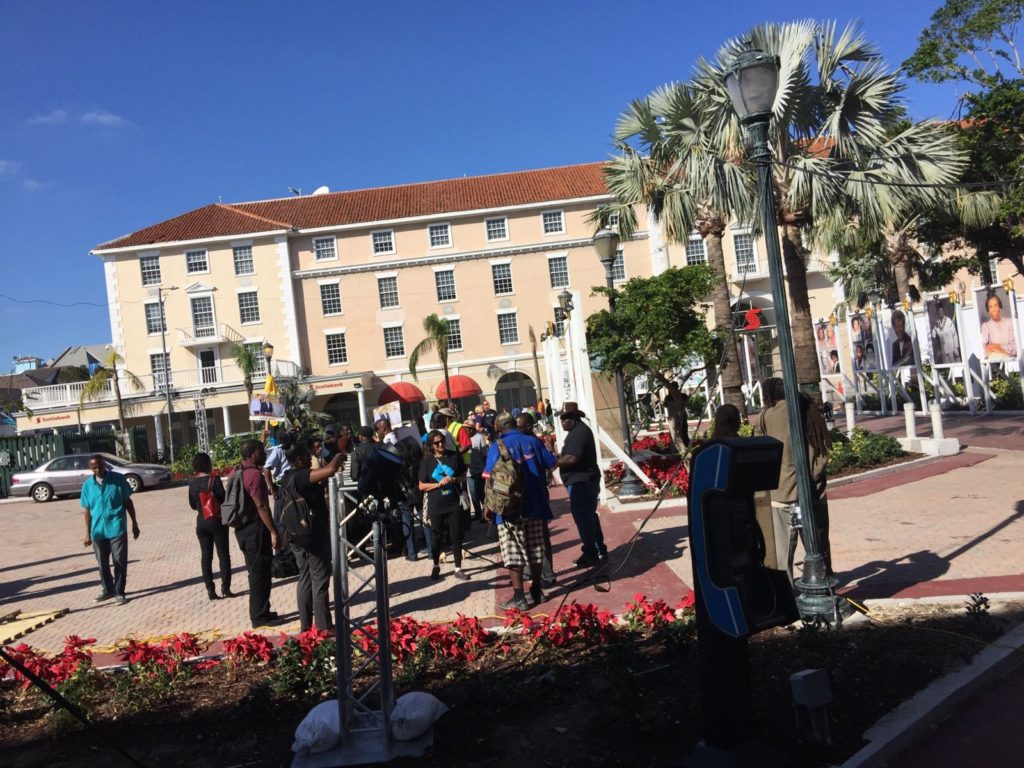 Nassau, Bahamas – Bahamas Press has learned that a major group intends to join the We March on April 2nd to call for an immediate investigation on Save the Bays. The group, we are told, want to demand that Parliament investigate incidents by Louis Bacon's Save da Bays and let the chips fall where they may.
We March organizers said in an interview that its third and final march before the elections will be brought forward to early April, and will be channeled to call attention to ongoing issues with the New Providence landfill now becoming the focal point of the protest which is scheduled near Holy Week.
Lead organizer, Ranard Henfield, told members that the decision was made after consultation with members of We March, in conjunction with members of the Raising Awareness of the Bahamas Landfill. We wonder if Stellar Waste to Energy or any of its suspects are also a part of this group.
Recently, persons have been deliberately burning down trees in areas around and near the dump. Last week several forest areas around the southwest sections of New Providence near Bacardi Road were mysteriously set afire. The fires, which we believe were set by arsonists, have affected hundreds of homeowners in those areas, leaving residents disgusted by those who have initiated these crimes. And now, all of a sudden, the group, which appears to be funded and supported by Louis Bacon's Save the Bays, is all on a high to march again to seek resolution to these criminal acts!
But a rude shock is coming to Bay Street to join Save Da Bays, We March and crew. A group from over-the-hill with Junkanoo Music and flags, we are told, will join the We MARCH to call for an end to Save the Bays and force a criminal investigation to commence with all suspects involved!
Louis Bacon's Save the Bays, yinner would remember, have made the dubious claim about threats and traveled to the US to file a claim against thousands of Bahamians about their safety. A 'lying' petition was made on behalf of Fred Smith, Francisco Nunez, Joseph Darville, Kirkland Bodie and Romauld Ferreira by the Grand Bahama Human Rights Association (GBHRA) where they all asked that the Inter American Commission on Human Rights (IACHR) request that the Bahamas government adopt precautionary measures to prevent irreparable harm to their lives. What a hoax! Who wants to kill dem – but perhaps the people they work for?
Those organizing to join the march said, "We are sick and tired of these claims being brought against Bahamians. They came without merit or fact, but yet, these are the same persons on a mad path to take over the politics of the Bahamas and chase out the duly elected government. We must stop them now or, in the end, they will use their new found power to JAIL BAHAMIANS INCLUDING POLITICIANS!"
The group said they will march whether invited or not invited and they will come with huge numbers to bring an end to SAVE DA BAYS!
As Sir Lynden Pindling warned more than 25 years ago – IF BAHAMIANS ARE NOT PREPARED TO STANDUP AND DEFEND THEIR COUNTRY THEN THEY DON'T DESERVE TO HAVE IT!
We report yinner decide!