NASSAU, The Bahamas (Jan 21, 2015) – The following is a 6pm update from Renew Bahamas: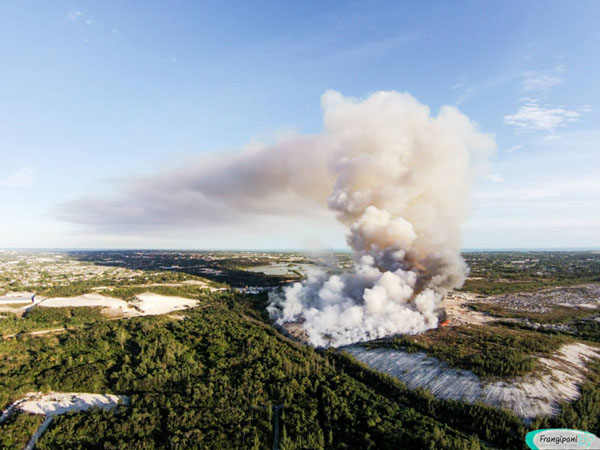 Renew Bahamas is continuing with its plan of action of fire and smoke suppression at the Harold Road Landfill site, despite being hampered by gusty winds.
There has been some improvement with smoke reduction as the company continues to cover burned out areas with wetted fill. This activity will continue for at least the remainder of the week, supported by the use of a specialist high head / high volume water pump.
Residents in the surrounding communities can expect the site to continue to smoulder during the next several days. The company will confirm once it is satisfied that all the surface fires have been extinguished and the smoke contained.
Should residents experience smoke, it is recommended that you stay in doors and keep all windows closed. Residents are also advised to consult a physician should they experience any ill side effects from the smoke.
The first fire was started shortly before 11 p.m. Saturday, on the northern side of the property, which the company is continuing to tackle. Shortly after, another fire started up in a completely separate part of the site (on the eastern boundary), which has now been fully extinguished. Based on evidence of various attempted burn sites, the company believes these incidents represent a concentrated arson attack on the site and facilities. Renew Bahamas will continue to pursue its investigations in conjunction with Government officials to try and identify the culprits involved.
Despite this setback, daily operations at the landfill site continued as normal.
Please be assured the company is doing everything it can with its team of contractors and the Fire Services Branch of the Royal Bahamas Police Force to bring some relief.
The company will continue to post updates regarding its progress in dealing with the fire.