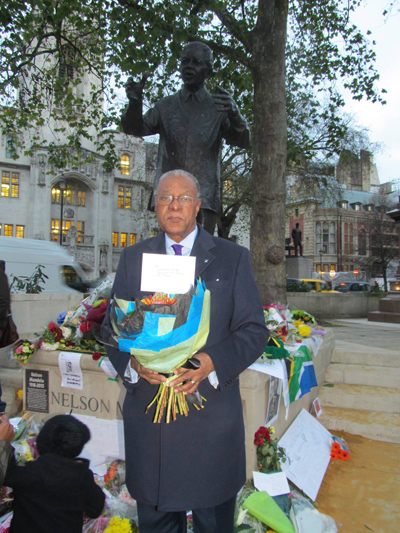 As a broadcaster in the Bahamas in the 1960's the Apartheid story was well known to me. The name Mandela and other anti-apartheid leaders were always in the news and as a young broadcaster I took pride in learning how to pronounce their names.
There was also a small group of Bahamians led by Mrs Beryl Hanna, the white British born wife of the then Deputy Prime Minister of The Bahamas, Arthur D. Hanna, who mounted demonstrations from time to time against the South African Apartheid Government. I was always assigned to cover their protest marches. Among the protesters back then was a young man named Fred Mitchell, the present Bahamian Minister of Foreign Affairs.
As a senior broadcaster I was privileged to cover the 1985 Commonwealth Heads of Government meeting in Nassau, The Bahamas, where Commonwealth Leaders signed The Nassau Accord and agreed to calling on the government of South Africa to dismantle its apartheid policy, enter into negotiations with the country's black majority and end its occupation of Namibia.
The Commonwealth Eminent Persons Group was appointed to investigate the South African issue and report back with recommendations ahead of the special 1986 CHOGM in London. I was also privileged to cover the special 1986 CHOGM in London. This was a special meeting held in between the biennial CHOGMs in order to consider the recommendations of the Commonwealth Eminent Persons Group regarding economic sanctions against South Africa due to its policies of apartheid. British Prime Minister Margaret Thatcher's refusal to support mandatory sanctions resulted in an acrimonious meeting and almost led to a split in the Commonwealth.
The Prime Minister of The Bahamas the late Sir Lynden Pindling who was Chair of the Commonwealth also chaired the special CHOGM in London. I remembered Sir Lynden joining the African leaders in condemning Mrs. Thatcher's stance on South Africa. My interest in Nelson Mandela became more intense during that occasion.
Each evening I watched BBC News-Night which featured documentaries on the apartheid regime in South Africa. One evening as I watched one of these documentaries I remembered an interview with Winnie Mandela. She was asked how long she would continue her fight to free her husband. She replied, "Until the last drop of my blood". I was quite moved by her profound response.
In 1990 I was serving as Press Attaché to the Bahamas Embassy in Washington DC. On that fateful Sunday in February as I watched Television alone in my "Foggy-Bottom" Apartment, tears flowed down my cheeks as I saw Nelson Mandela and Winnie Mandela walk to Freedom.
Three years later I had the great honour of meeting Nelson Mandela in person during a visit to The Bahamas. He had come to Nassau to thank the former Bahamian Prime Minister, Sir Lynden Pindling, who was then leader of the Opposition, for Sir Lynden's leadership in The Commonwealth in the fight against apartheid in South Africa.
My meeting with Mandela took place at a reception hosted by at Sir Lynden at his Nassau residence. As I stood in the long queue and looked at him from afar, I knew I was in the presence of greatness. And when I was introduced to him by Sir Lynden my hands trembled as I shook his hands. He was also kind enough to autograph my copy of "Long Walk to Freedom".
The autographed copy of "Long Walk to Freedom" and a photograph of that occasion by Bahamian photographer Peter Ramsay remain among my most cherished and prized possessions.
I received the news of Mandela's death around 11 o'clock Thursday evening December 05. I was saddened but not surprised that he had finally ended his long walk on earth. I became emotional as I watched the televised tributes from world leaders. I will remember Nelson Mandela as a shooting star and now we will all have to live in his after-glow.