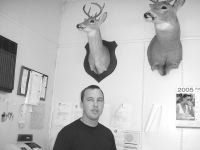 DUNDAS TOWN, ABACO — Prominent Abaco businessman Mr. Shannon Albury is the latest victim of armed robbery .
According to our sources,  Mr. Albury was approached by a group of mask men brandishing military weapons with a deep Haitian accent. He was made to relinquish his Rolex watch, cell phone and an undetermined amount of cash.
He is the owner and operator of the K & S gas station, K & S Auto Sales and a heavy duty equipment company.
Mr. Albury represents a new generation of stakeholders in the area of commerce and is a beacon of hope to all young people. His story depicts the reality of success when one chooses to work hard.
There seems to be no end in sight for the increase in criminal activity on that northern island. Our sources entrenched deep within Papa Clown's inner circle has revealed that Papa was overheard on a phone call to Tommy crying saying it is simply too much crime and he can't get a hold on it.
Far too many innocent hard working Bahamians are falling victims to crime and the FNM is clueless with it strategies on preventative measures .
While Edison Key and like minded cronies are scheming how to get illegals on the ballot with record numbers of citizenship ceremonies our innocent hard working Bahamians are catching hell to keep their businesses and families safe.
We call on the Prime Minister to stop playing games before we loose another good hard working Bahamian.
WE REPORT YINNER DECIDE!