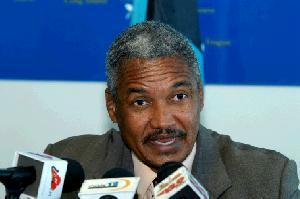 The Wutless Media is at it again! This time it's the Guardian playing the lead role. Bahamas Press noted the glaring headline (bordering on the obscene in size) in today's edition (Friday, February 4th) entitled, "LESLIE MILLER IN CUSTOMS PROBE."

Bahamas Press is acutely aware that Mr. Miller is capable of defending his companies and himself. Hence we have no need to play the role of apologist in this matter. Bahamas Press however does declare our general support of Mr. Miller. But as Bahamas Press declares with all persons we support; our general support means just that—general. The person still has to be standing on some measure of correctness. There's no blind support from those of us who make up the core of Bahamas Press. Unfortunately, the wutless media has blind support and devious behavior, bordering on the diabolical, down to a science!
Bahamas Press read the Guardian's side of the story as well as Mr. Miller's response. But what we sought after and acquired, was a differing view about the Miller-Customs Matter, from our sources in Customs (those not immersed in the political muck of government agencies).
Bahamas Press has been informed that the media's rendition of the matter is correct in that the goods in question entered the Bahamas without proper invoicing. But our long time source in Customs also said, "I doubt very seriously that a probe is being conducted on Miller as if he's Public Enemy #1, as the newspapers would have it to be believed. The fact of that minor matter, as ascertained by our investigations, free of media's jaundiced eyes is that a container shipped to Nassau in December was not able to hold all of the canned goods as arranged. In this recent shipment the canned good (left over from December's shipment), was commingled with goods that did have a declaration."
Bahamas Press' source went on to say, "Though I was not present at the time, Custom Officers on the scene have noted Miller's alacrity in seeking the remedy of proper invoicing from the foreign companies he did the transactions with. Miller has since given Customs most of the invoices. Customs anticipates having the remaining invoices in short order. But just for the record, persons should be aware that Customs is always "probing" many businesses and individuals, when it comes to revenue for the Treasury via the Customs Department. Now, if we could only extend the proactive measures of Customs under our new Director to search as a matter of daily routine cruise vessels docking at Lyford Cay—then we would be operating on all cylinders!"
Bahamas Press is tired of condemning the overlords of the wutless media. They obviously were condemned from birth!
Bahamas Press applauds the proactive approach of the Customs Department, it's fairly new Director and those Customs Officers that physically seek to collect revenue on a daily basis.
As stated, Bahamas Press sought a differing view of the Miller-Customs Matter, and that view we got. Bahamas Press will now give its readers our view of the matter. Yes, Customs has the mandate to seize any and all goods (just as the police can hold a person based initially on suspicion, until proven as innocent or guilty). And obviously, the wutless media has awarded itself a mandate of blind support and devious behavior bordering on the diabolical—because based on Mr. Miller announcing his intentions to reacquire The Blue Hills Constituency as it's member of parliament; his recent slaughter-on-the-fly (not planned) of Blue Hills incumbent Sidney Collie on talk radio and Mr. Miller's ability to speak the  small man's language nad displays daily a heart for all Bahamians—creates all kinds of nightmares (daymares, lunchmares and brunchmares) for the overlords of the wutless media! Hence, the obscene, specious and diabolical headline and story.
Is this the start of political witch hunts? Bahamas Press will watch while we wait for that answer.