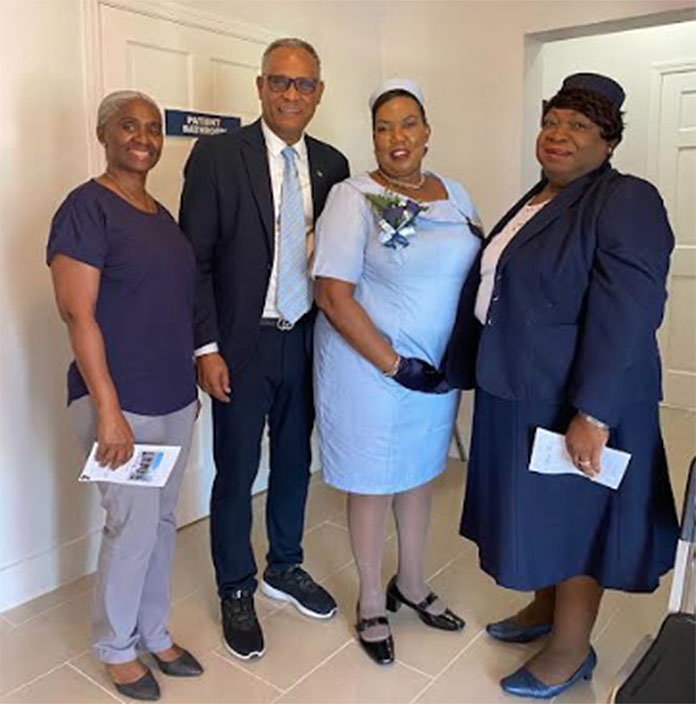 STATEMENT| Calling it a red letter day, Minister of Health & Wellness, the Hon. Michael R. Darville described the opening of the newly renovated clinic in The Bluff, Eleuthera as a culmination of dedication, planning and collaboration between healthcare professionals, government officials, community leaders and private residents.
The Minister also added, "The clinic also stands as a proud monument of service because of the strength of the community and its stakeholders to have such a facility to support the healthcare
needs of the community."
Delivering remarks that drew rounds of applause and audience interaction, Minister Darville reminded residents attending the ceremony of the comprehensive healthcare plan of the government as outlined in the Blueprint for Change; as he described it as less of a political document and more of a commitment to the people of The Bahamas. The Health Minister also used the opportunity to tout the partnership between health and wellness.
He revealed elements of the STEPS 2019 Survey saying that it reflected the poor health status of our nation. "We failed on that report card. The Bahamas is reported as having the highest record of diabetes in the region with added sugar and excess salt intake also leading to heart attack, stroke and other complications." Dr. Darville charged nurses attending the ceremony to see the invaluable contribution of community nursing to the overall health of our nation.
Chief Medical Officer at the Ministry, Dr. Pear McMillan expressed enthusiasm about the clinic's potential impact on the island. "This Community Clinic is not just a medical facility; it is a foundation for healthier living. With a focus on preventive care, early intervention, health education and services, we aim to empower residents to take charge of their health journey." The community is encouraged to embrace this opportunity to prioritize their health and wellness.
Along with community residents also in attendance at the ceremony was: Mr. Sylvanus Petty, M.P. for North Eleuthera, Deputy Speaker of the House of Assembly and Chairman of the Water and Sewerage Corporation; senior Ministry of Health & Wellness officials; contractor Mekel McDonald from MDM Construction and private partner community donors.