BP BREAKING NEWS >>> Another murder in Grand Bahama minutes ago >>> Dead is 47-YEAR-OLD Cedric Hepburn….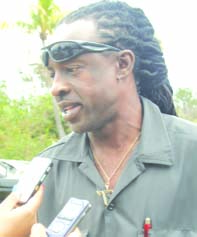 Freeport, GB — Bahamas Press is right now reporting the murder of a man who has been at the centre of a dispute with the Grand Bahama Port Authority for some years now.
BP has learn Cedric Hepburn has been found shot to death with multiple gunshot wounds in the Bahama Bay in the Fortune Bay area of the island.
Sources confirm Hepburn was making his daily evening walks on the beach with his wife, when a gunman hiding in bushes nearby jumped out and opened fire on the victim.
The gunman then fled the crime scene.
Hepburn is from Smiths Point and owns and operates a heave equipment plant on the island.
Details surrounding the incident are still unknown, but according to our teams on the ground police have just arrived into the area.
BP has learnt a longstanding dispute over 10 acres of land had been developing between the deceased and the Grand Bahama Port Authority.
You would remember A legal document claiming mischievous behavior, which apparently led to the swift action to issue the summons, was recently served on Hepburn allegedly by the Grand Bahama Development Company (Devco).
"The day before I cleared down the property just a little tract to show where my grandfather's house was, the following evening I saw investors there and they were walking the property. There was no exchange of words, no police ever were involved or said anything to me," Hepburn told members of the media at the time.
GBPA executives told the media they stand by their previously released statement issued just over a week ago, which stated they are the rightful owners of the land in question.