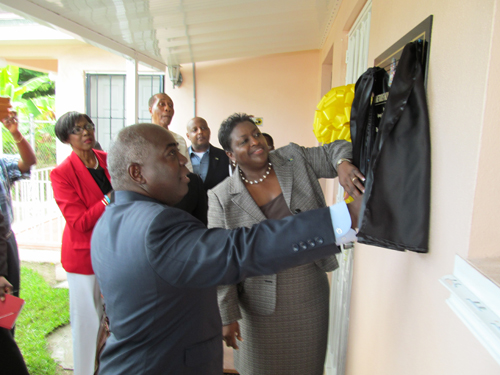 Nassau, The Bahamas – Deputy Prime Minister, Minister of Works and Urban Development Phillip "Brave" Davis called on the government and private sector to ensure that residential care facilities for the elderly provide the level of care that they deserve.
"They should not be places where older persons are only provided with a bed and basic meals but they should be places where there is stimulation and interaction both within and outside the facility," he said. "There is often the myth that once persons attain a certain age they are incapable of remaining active and should be withdrawn from society. This is a myth we do not want to perpetuate."
In his remarks Minister Davis reminded the nation that many of the successes available today are as a result of the labour and sacrifices of senior citizens. He urged Bahamians to maintain the elderly as a "vital" part of the community and not cast them aside as they age.
Minister Davis, assisted by Minister of Social Services Melanie Griffin, officially opened the Demetrius Home and Care Centre during a special ceremony on Thursday, October 17.
He recalled that years ago it was the norm for older persons to be accommodated in the homes of relatives especially when they were unable to continue living on their own. He said, however, regretfully in New Providence in particular, this has now become the exception rather than the rule.
"We are also aware of the advances in health care and the improved standards of living, that have resulted in persons living longer, which we welcome and applaud but, when this is coupled with the decline in the extended family and care of older members, the need increases for special housing and a network of community based assisted living facilities like the Demetrius Home and Care Centre to accommodate older persons who can no longer live on their own and whose families are unable or unwilling to care for them," the Minister stated.
Describing the home as an aesthetically fine facility, he challenged the administrator and staff to provide the best level of care possible to the residents and to treat them as they would want to be treated should they live as long.
"We must actively engage in dialogue with our older persons about the future they would like to have and not presume to believe that we know what is best for them or expect them to accept whatever we choose to make available to them," he said. "I am sure that in listening closely to this segment of our population, we will not only learn many things about our past but also set a compassionate course for our future. What we do now will determine how we are treated later."
The Ministry of Social Services has responsibility for the facility which is located on the corner of Fox Hill and Hard Hill Roads.