Stadium areas 'dutty' and do not reflect National Pride when the Bahamas is on the world stage!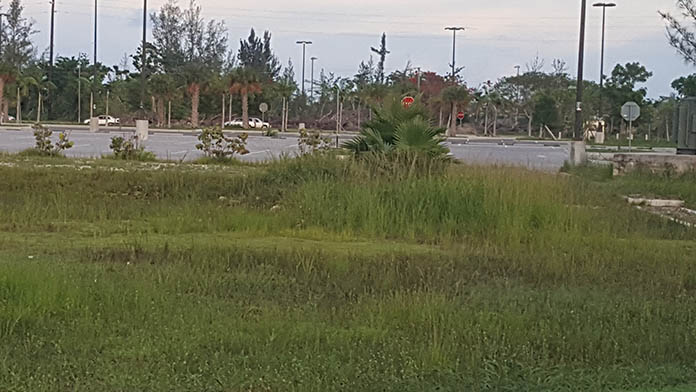 Nassau, Bahamas – We at BP have made an inspection in and around the grounds of the Thomas A. Robinson National Stadium and we have something to say which will shine the spotlight on those organizing the Commonwealth Youth Games in the Bahamas.
Why da damn grass isn't cut? We are hosting the world and yet surrounding the National Stadium remains unkempt. What kind of un-Bahamians hospitality is dis?
The main entrance – where the Walk of Fame that salutes our National Sports Heros is located – will be presented to the world as: 'DA WALLS OF SHAME'. Photos have gone missing inside the frames since Hurricane Matthew and the scene looks as if no one cares to celebrate our national treasures in sports.
The bush between the swim complex and the Kendal G. L. Isaacs Gym looks as if it has not been cut since da botched early voting exercise. No white paint is presented along the roadways to show international guests from around the Commonwealth that the Bahamas has some kind of national pride.
The unsightly derelict vehicles on the main boulevard entering the National Stadium present another eyesore for visiting members from around the world. Someone find a canvass to hide da junkyard please!
Last, but not least, the verges and roundabout corridors, which are the main arteries of the road network leading to and around the National Stadium, should have been spotless; spick and span since the July 10th Independence holiday. Where is the national pride to prepare the place for the eyes of the world and the attention of global sports media! WHO ARE WE DESE DAYS?!
We at Bahamas Press cry 'dutty' shame and take note of what a DUTTY DISGRACE we have descended to! We should have hired every manpower available [GO FIND ASH DEM!] and cleaned up da place before the opening ceremonies.
But when ya more busy with a "Terminate and Incarcerate" policy, ya just don't give a damn about getting on with the job of governing the place! What yinner think dis is?
BP HAWT TONIGHT!
We report yinner decide!