We must do a better job in protecting the Bahamas and FIRE DEM who can't!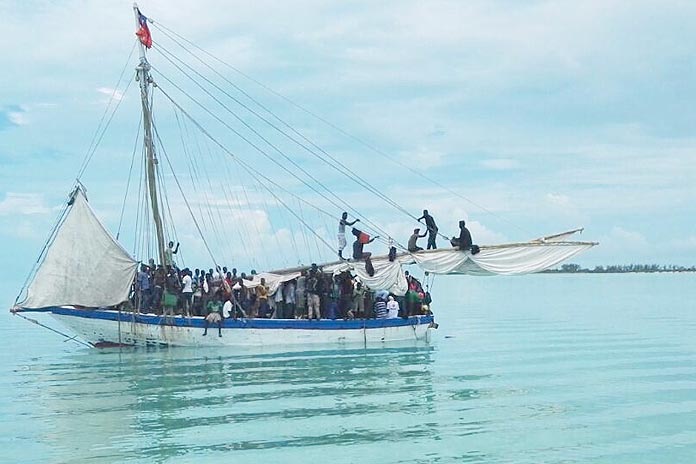 Nassau, Bahamas – A group of 99 undocumented Haitian migrants landed right in the back of the Royal Bahamas Defence Force Base on Christmas Day morning, undetected as they sailed for days through Bahamian waters.
All of the migrants were captured. The incident follows just days after when bodies washed ashore on the southern coast of New Providence.
This is serious because for 99 persons to ride up on the base, which is supposed to protect the Bahamas at sea, what is that telling us about the state of National Security at sea? Imagine if that was an invasion of 99 military trained men from some rebel part of the world washing up ashore right at the heart of the Bahamian military base? This is serious! Ten good militant men from MI6 or any other service branch could completely take over the base so imagine 99!?
Bahamas Press joins the comments of the PM Rt. Hon. Perry Christie, who shared this week his concerns about illegal migrants.
So rather than just cuss and carry on, we at Bahamas Press ga offer some solutions to work on the problem.
Solution #1: The Bahamas should immediately deploy a 24-hour drone system with infrared capability to detect, identify and intercept all vessels moving around the borders of the capital. Such a system would allow for an alert to be issued to authorities of the dangers out at sea and prepare those charged with protecting the boards to be on standby for such threats.
Solution #2: Since it takes days for illegal vessels to move from Haiti or Cuba to Nassau, therefore, an immediate reward should be offered to all pilots moving up and down the country for their sighting and GPS location of illegal vessels sailing for days.
This would then allow our multi-million dollar Defence Force Vessels to again properly intercept such vessels long before their arrival in the capital right in the back of the Defence Force Base where all the military armaments are stored.
Imagine a boat with 99 persons riding right up to the United States, Russian or British Nuclear or Military Bases? This is unheard of, and therefore, the Bahamas must do a better job to avoid a repeat of such incidents.
Finally we call on all decent residents to answer this question: How is it in small communities such as Acklins and Inagua where only 28 people reside 'dey' could capture 100 plus persons who illegally land in that part of the country, but on New Providence, a whole boat could ride up right onto the shore of the Royal Bahamas Defence Force Base in the dead of night and the occupants melt right into the community? And again, not a damn soul saw a thing?! How does that happen? It's Unbelievable!
Anyway…Y'all have a better New Year here!
We report and yinner decide!