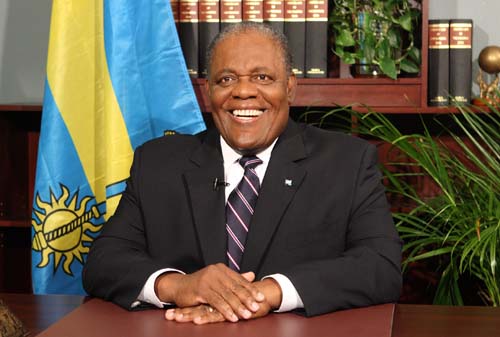 Prime Minister Hubert Ingraham to address the national this Monday.
Click to Listen as Ingraham speak with reporters!
Nassau Bahamas: Now when we heard those words from the SCROOGE OF BAHAMIAN CHRISTMAS [Hubert 'MOE' Ingraham] we wondered WHERE DID THIS MAN COME FROM? Hubert Ingraham was all over the press Thursday night like a consultant just from American, evaluating the state of the Bahamian economy. And now out of his press statements, the man who just landed back on earth from the moon, has decided he will speak to the nation this coming Monday night.
It was amazing to hear Ingraham confess finally, "People are working one and two days a week, many are not working at all, some have been laid off [and] others will be laid off. Tourism is in trouble now…" Ingraham said. The Ingraham government was the same group who told Bahamians employment was UP, the economy was growing and that there was no recession.
These words being uttered by the leader of the FNM are truly HISTORIC, [the PLP should get a hold of this soundbite for the next election]. Ingraham told reporters that he will outline the background of the economic crisis now in the Bahamas and the United States, and will seek to offer a road map to the future. [Now we caution here, Ingraham is NO OBAMA!]
Bahamas Press congratulates Ingraham for this bold step to address the nation at this most critical time.  However, UNLESS he is willing to set a course to rectify the MESS he has delivered the Bahamian people in, ALL WE WISH FOR HIM TO SAY IS THIS, "I HAVE DONE THIS TO THE BAHAMAS AND I THEREFORE RESIGN AS PRIME MINISTER."
Ingraham needs not tell the Bahamian people how we got here. Every person in this country knows how the Bahamas went from BOOM TO BUST. From  A ratings to F. Everyone from the BREAST to the baby [who must suck milk these days because of the high food prices], knows how this crisis began. It started with the stopping of over $90 million in government capital construction contracts by Ingraham's FNM administration. Everyone knows the deteriation of the economy exacerbated when Ingraham fired hundreds of government workers in 2007. Everyone in the Bahamas knows the economy crippled further, when Earl 'Turtle Mouth' Deveaux under Ingraham orders STOPPED, REVIEWED AND CANCELED over $20 billion worth of anchor development projects, investments earmarked for the country, chasing investors away from our shores. The STUPID MOVE BY THE INGRAHAM GOVERNMENT pushed hundreds more including masons, carpenters, plumbers, electricians, painters, tile layers and service workers out-of-work.
So Ingraham needs not address the country on how we got here, WE KNOW HOW WE GOT HERE! Nor should he try break another law – THOU SHALT NOT BEAR FALSE WITNESS! Come clean this time INGRAHAM, come CLEAN! Because the people of this country are already looking at you cross-eyed!