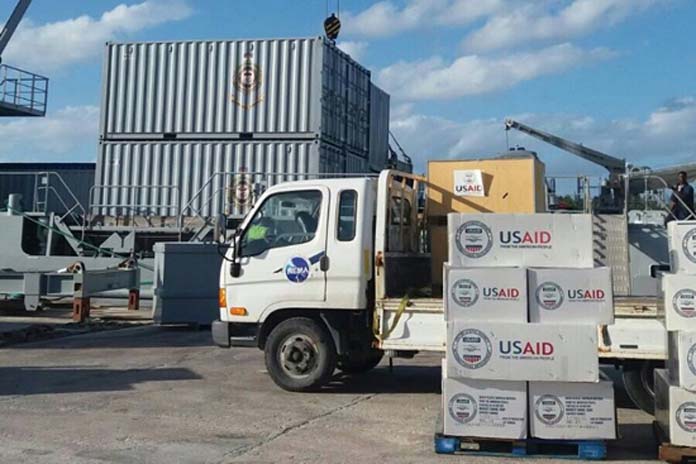 NASSAU, The Bahamas – The HMBS Lawrence Major left the capital Tuesday, October 11 with much needed supplies for residents in North Andros, one of the areas hardest hit by the Category 4 Hurricane Matthew.
The supplies comprised 40 hygiene kits, 36-two burner stoves, and 4 generators will arrive in Lowe Sound on Wednesday.
Senior Deputy Administrator Ivan Ferguson reported that 35 homes were completely destroyed; 40 received major damages and 100 received minor damages. Lowe Sound has a population of just about 700.
The items were donated by the United States Agency for International Development/Office of Foreign Disaster Assistance (USAID/OFDA), one of the international agencies providing relief assistance post Hurricane Matthew.
Meanwhile, in its the latest update October 11, from the Water & Sewerage Corporation, stated that restoration crews were deployed on October 7, 8 and 9 to assist in North and Central Andros along with needed equipment and other supplies.
North Andros suffered significant damage and flooding in pumping stations serving Nicholls Town, Conch Sound and Lowe Sound. The system is partially restored serving Nicholls Town and Lowe Sound. Water for communities was also made available at main pumping station site.
In Red Bays and Mastic Point, the water system was also commissioned but on intermittent supply. In Central Andros, supplies are off due to power supply disruptions; portable gensets have been and are being deployed and restoration crews have been deployed to provide temporary relief. Crews have also cleared and re-commissioned well fields in Bowen Sound, Cargill Creek, Staniard Creek and Stafford Creek.
These facilities are being run intermittently with portable gensets. Fresh Creek and Love Hill remains off but power restoration expected at Fresh Creek on Wednesday, October 12.