ALERT #12 ON HURRICANE TOMAS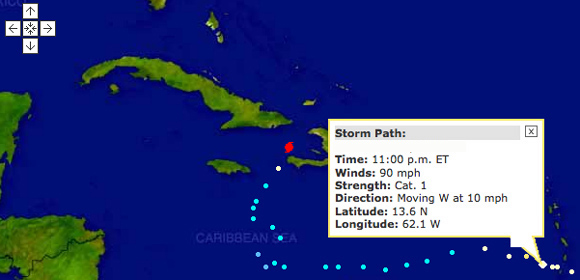 ISSUED BY THE DEPARTMENT OF METEOROLOGY FORECAST OFFICE , FRIDAY 05TH NOVEMBER 2010 …
AIR FORCE RECONNAISSANCE PLANE FINDS THAT TOMAS HAS BECOME A HURRICANE…. HURRICANE WARNINGS ARE IN EFFECT FOR THE TURKS AND CAICOS ISLANDS AND THE SOUTHEAST BAHAMAS WHICH INCLUDES THE ISLANDS OF: INAGUA, MAYAGUANA, LONG CAY, ACKLINS,CROOKED AND RAGGED ISLANDS.
A HURRICANE WARNING MEANS THAT HURRICANE CONDITIONS ARE EXPECTED IN THE WARNING AREAS GENERALLY WITHIN 36 HOURS. AT 05:00 AM E.D.T., THE CENTER OF TOMAS WAS LOCATED NEAR LATITUDE 18.1°N AND LONGITUDE 74.9°W OR ABOUT 339 NAUTICAL MILES SOUTHWEST OFF ABRAHAM'S BAY, MAYAGUANA, 339 NAUTICAL MILES SOUTHWEST OF PROVIDENCIALES, TURKS AND CACIOS ISLANDS AND 175 NAUTICAL MILES WEST-SOUTHWEST OF PORT AU PRINCE HAITI. TOMAS IS MOVING NORTHEAST AT 9 MPH (13KM/HR) AND THIS GENERAL MOTION WITH AN INCREASE IN FORWARD SPEED IS EXPECTED OVER THE NEXT 48 HOURS. ON THE FORECAST TRACK, THE CENTER OF TOMAS WILL PASS NEAR WESTERN HAITI THIS MORNING, NEAR OR OVER EXTREME EASTERN CUBA TODAY AND NEAR OR OVER THE SOUTHEASTERN BAHAMAS AND THE TURKS AND CAICOS ISLANDS LATER TODAY OR TONIGHT.
MAXIMUM SUSTAINED WINDS HAVE INCREASED TO BE NEAR 80 MPH WITH HIGHER GUSTS. TOMAS IS A CATEGORY ONE HURRICANE ON THE SAFFIR-SIMPSON SCALE.
SOME ADDITIONAL STRENGTHENING IS POSSIBLE TODAY…FOLLOWED BY A WEAKENING TREND BEGINNING ON SATURDAY. HURRICANE FORCE WINDS EXTEND OUTWARD UP TO 15 MILES FROM THE CENTER AND TROPICAL STORM FORCE WINDS EXTEND OUTWARD UP TO 140 MILES (195KM) MAINLY TO THE NORTHEAST THROUGH SOUTHEAST OF THE CENTER. LOCALIZED FLOODING AND STORM SURGE SHOULD BE EXPECTED AS WITH THIS HURRICANE.
RESIDENTS IN THE WARNING AREAS SHOULD RUSH TO COMPLETION ANY NECESSARY ACTIONS TO REDUCE LOSS OF LIVES AND PROPERTY. IF RESIDENTS IN THE WARNINGS AREAS DO NOT CONSIDER THEIR DWELLINGS AS SOUND THEY SHOULD CONTACT THEIR LOCAL ADMINISTRATORS OR NEMA REPRESENTATIVE FOR ASSISTANCE.
SMALL CRAFT OPERATORS WITHIN THE WARNING AREAS SHOULD REMAIN IN PORT. RESIDENTS IN THE NORTHWEST AND CENTRAL BAHAMAS SHOULD GO ABOUT THEIR NORMAL BUSINESS.
THE DEPARTMENT OF DISASTER MANAGEMENT AND EMERGENCIES WILL CONTINUE TO MONITOR THE SITUATION AND FURTHER UPDATES WILL BE PROVIDED AS THE SITUATION DEMANDS.