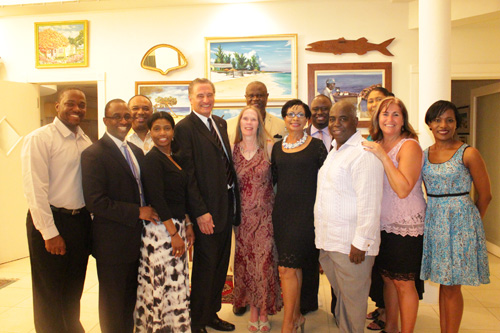 A four-day visit to Cat Island last week has yielded plans for a subsequent trip by Mayor Richard Reinbold and a delegation from the Village of Richton Park, Illinois, for a formal signing of a Sister City agreement between the two communities.
Cat Island MP, Deputy Prime Minister Philip Davis and his wife Ann Marie hosted Mayor Reinbold and his group, along with members of the Cat Island Sister City Association to a welcome dinner at their home in New Providence on Monday, March 2.
The Richton Park delegation included Mayor Reinbold's wife, Tammy; Prairie State College President Terri Winfree; Village of Richton Park Sister City Committee Chairwoman Pam Smith; Village Manager De'Carlon Seewood; and Guaranteed Technical Services and Consulting, Inc. owners Daniel and Yvonne Evans.
The seven-member delegation's trip followed a similar visit which a group from Cat Island paid to the people of Richton Park in September 2014.
Cat Island Administrator Jackson McIntosh; Cat Island Sister City Association (CISCA) Chairman Danson King, CISCA member Melvin Seymour and Immerse Bahamas President and CEO Ginger Moxey and her public relations and production team were on hand Monday and served as chaperones over the next three days to ensure the group's experience was documented and an enjoyable one.
Immerse Bahamas facilitated the union of both groups and liaised with CISCA and the Richton Park delegation over the last few months to see the trip come to fruition.
At the dinner reception Monday, the special guests got a taste of the island life, from the down-home sounds of the Cat Island original Lassido Boys and the Gully Roosters Rake 'n' Scrape live band to native Bahamian dishes like conch salad, crab and rice and guava duff.
DPM Davis told his guests they were getting only a taste of what they were to experience in Cat Island.
"We look forward to the relationship. We do welcome you in our home and we trust that this will not be the last time that we will be able to share as we do today," he said.
Mayor Reinbold presented DPM and his wife with a snow globe of Chicago as a token of their appreciation for their hospitality on behalf of the Village of Richton Park.
"We're looking forward to this relationship for the Village of Richton Park. This will be our first Sister City arrangement and we know that there is nothing but opportunity and the future is very bright in this regard and we look forward to many, many returns in the future. Thank you for your very warm hospitality. We feel we've already established brothers and sisters," he said.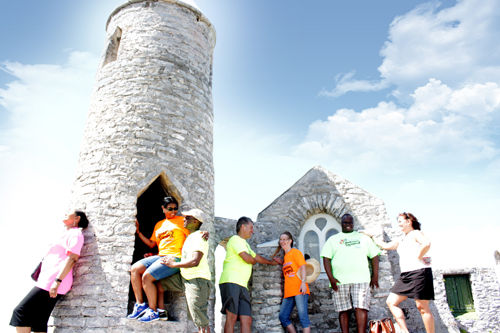 The following morning, the seven-member delegation, along with the Cat Island and Immerse representatives, travelled to Cat Island and visited all of the schools in New Bight and Old Bight before heading north to talk to the students in Dumfries, Arthur's Town and Orange Creek.
The people of Cat Island turned out in impressive numbers that evening to welcome the Richton group with a reception dinner.
On Tuesday, March 3, the Chicago team headed out early and climbed 206 feet up Mt. Alvernia to The Hermitage, the highest point in The Bahamas, before relaxing at the Regatta Village where they feasted on more Bahamian delicacies, purchased some of the pieces from a local straw vendor and were treated to the rake 'n' scrape sounds of Alfred "Pompey" Johnson of Boar Hog and the Rooters.
Following a visit to Hawk's Nest, a relaxing boat ride and a farewell dinner at the Administrator's residence Wednesday, the Richton Park delegation packed their bags Thursday morning, flew back into the capital and departed for home.
Overwhelmed by the sights and warmth of the people, Mayor Reinbold said there is a wealth of opportunity for a long-lasting partnership.
"We see this as a genuine opportunity to build a relationship with a community to see how we can partner, form synergies and make something very good, very positive and long lasting out of this relationship. We already see opportunities for partnering in education [and] technology," the Mayor said.
"It's been a remarkable experience for our delegation. We can't wait to get back and share our experience with our community; we know it's going to be infectious. We're looking forward to the next step; we've already got our dates for our return visit. We're going to open that up to our community so whoever wants to come has the opportunity to experience the warmth, the sisterhood and brotherhood that we've experienced on our visit. We're just excited because the future is only limited by the ideas that we're going to come up with and we're going to come up with a lot."
Village Manager Seewood was also pleased with the fact that the people opened up their homes to them and is convinced there is an avenue for educational exchange, among other programs.
"A program where people can visit us and we can come visit them, just to learn from each other. I'm ready to sign on the dotted line," he said.
Sister City Chairman Smith pointed out that while all the formalities with the signing has yet to happen, the bond between the people of Cat Island and Richton Park have already formed.
"It's just a matter of making it formal and just nurturing that so that it grows and we can become closer," said Smith.
Dr. Winfree also noted the potential benefits of the union.
"I see a lot of promise, a lot of opportunities. I am so pleased to have been here for the beginning of it and I look forward to seeing it come to fruition. My mind is kind of spinning with different ideas and things that I see – ways we could be working together to share the culture, to share the educational opportunities. So I just look forward to carrying it forward," she said.
After hosting the group for the five days, Administrator McIntosh said the intent was for the people of Cat Island to demonstrate to the people of Richton that they are excited for the opportunity to forge a relationship with their city.
"I think the people of Cat Island did a fantastic job. So I would say that this has been a very successful venture, so much so that they are talking about signing this agreement on June 11th of this year and that's going to be a red-letter day for Cat Island," he said.
Moxey, whose intent is to develop Sister City relationships with all islands of The Bahamas and US cities, was pleased with the Cat Island visit and drove the message to the people that the Sister City relationship is important to The Bahamas.
"It is all about tourism, educational, humanitarian, culture and business exchanges. We are so delighted that Cat Island residents have shown up in full force and have received the delegation as well as they received us back in September," she said.
"Cat Island will be the model for the rest of The Bahamas to use because it is going to be the first one under the Immerse Bahamas partnership with Sister City International. You have put your best foot forward. The world is watching; The Bahamas is watching and I just want us to all push forward and make it happen and look for the opportunities that both the Village of Richton Park and Cat Island can have. We just want to do whatever we can with the relationship to enhance and impact lives."