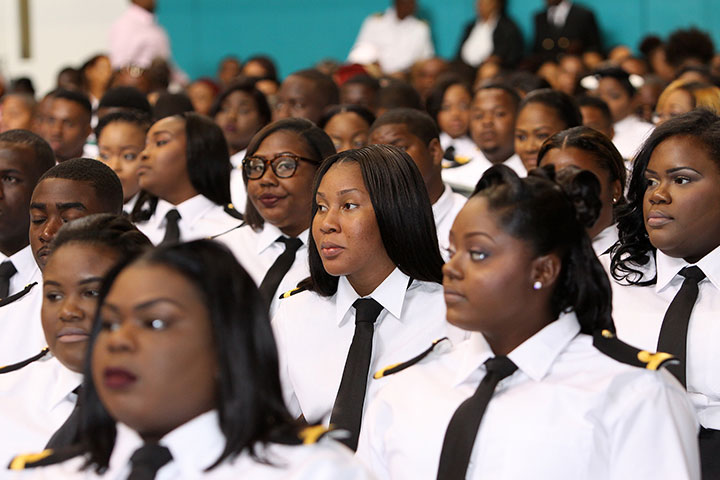 Nassau, The Bahamas – The 2016/2017 Graduating Class of Customs Officers has undergone a number of 'firsts,' said Prime Minister and Minister of Finance the Rt. Hon. Perry Christie at the Customs Officer Graduation & Award Ceremony on Friday at the Kendal Isaacs Gym.
They were the first set of recruits to be introduced and trained in the New Customs Management Act, 2011 and Regulations, which is integral to economic objectives.
He pointed out that the Act was drafted to meet the obligations contained in the Economic Partnership Agreement (EPA) signed by The Bahamas in October 2008 — to align with the Trade Rules of The World Trade Organization (W.T.O.); to comply with the instruments and standards of the World Customs Organization (W.C.O.) such as the Revised Kyoto Convention on the Simplification and Harmonization of Customs Procedures; to introduce Best Practices; and to re-enforce the Role and Capacity of The Bahamas Customs Department to achieve its strategic objectives.
He said, "I am advised that you are, also, now the first recruits to be the beneficiaries of a $16.5 million loan agreement between the Government of The Bahamas and the Inter-American Development Bank (IDB). This money was borrowed to ensure the facilitation and improvement of Trade, to collect revenue and improve our capacity to collect revenue, and to strengthen and improve Border Protection."
Prime Minister Christie said that it meant the graduates would be immersed in a modernized Customs organization with improved border protection and enforcement, and the Electronic Single Window (which began February 1, 2017) and System Automation.
"Recruits, you are about to enter into the practical environment of a noble and dynamic organization that was established on 21st March 1914," he pointed out.
"This Department has ever since been an evolving and progressive one, and is fast becoming one of the most modern Customs Administration in this Region. It is imperative that you new recruits join in this movement to assist this enterprising institution."
The Prime Minister, addressing also parents, family and friends, told the 114 graduates, whose graduating theme was 'The Best is Yet to Come': "I share in your pride of achievement at having been selected after a rigorous process to join the Customs Service, and for having successfully completed a multi-discipline curriculum which made up your training. Your selection and your passing of the courses would have been competitive and so this moment of pride of achievement is one that you should relish and bask in.
"But I want to repeat again, you have begun a journey that result in a life-long career and service to your country.
"A tremendous duty is imposed upon you with respect to the responsibilities that you will exercise. You must always remember that this is not just a desk job where you can hopefully expect a long and secured career with benefits; but you are beginning a career today which is critical in the overall scheme of things when it comes to the governance of this country."
He reminded them that their career path might very well take them to various stations in The Bahamas.
"You are expected as faithful and obedient public officers to always be obedient to the call of duty, whether in Inagua, San Salvador, Bimini or some of the cays where some major developments are taking place," Prime Minister Christie noted. "The developments taking place in our country will present border as well as revenues issues and the Customs Department will have an enhanced duty in these areas of our country."
The anticipated economic boom in the various family islands concomitant with the migration of population will mean that the Customs Department is expected to respond in kind, he pointed out.