New PM trans bought by former PM to look at the poor and laugh at dem? What was Ingraham thinking?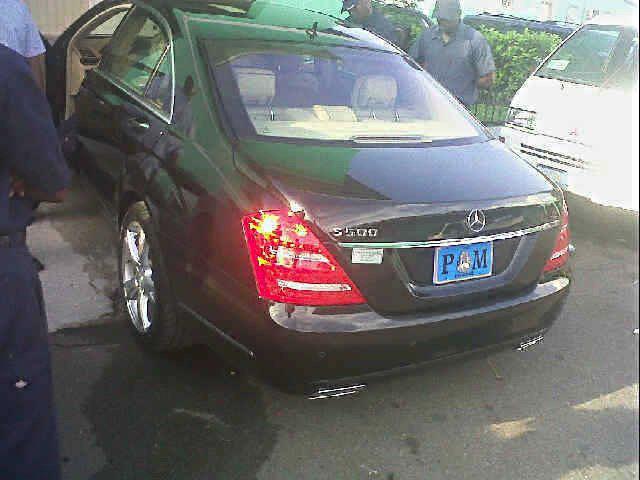 Nassau, Bahamas – TALK DAT! While the country collapses to its knees, look at what the PM is driving!
Prime Minister The Rt. Hon Perry Christie was delivered his new gift – ordered by former Prime Minister Rt. Hon. Hubert Ingraham – last week.
While unemployment stood at its highest levels nationally and police could not get a car to fight crime, Hubert Ingraham bought a $185,000 classic series S-500 Mercedes Benz to roll around in to look at the poor people with their lights off.
WHAT EXTRAVAGANCE!
Sources also tell us the multi-million-dollar government complex in Abaco is fitted with a spa and Jacuzzi for the PM! Some call it the TAJ MAHAL of Abaco.
While Bahamians suffer and struggle to find employment, look at the lap of luxury, wastage and pillage of the public purse – all squandered by the former PM.
The few continue to rape our backsides! Boy I tell ya, "IF YA DON"T LAUGH YOU WILL CRY!"
Armed Robbers make good their getaway with money in southern New Providence
Bandits and thieves are proliferating all across the capital and getting a handle on the situation appears to be troubling. Police are requesting your assistance in locating a man responsible for an armed robbery.
The incident reportedly occurred shortly before 4:00 pm on Monday at a business establishment located on Soldier Road north.
Initial reports indicate than an employee was exiting the establishment when he was approached by a male armed with a handgun.
The culprit reportedly robbed the employee of the company's deposit bag containing an undisclosed amount of cash and fled the area in a maroon vehicle south along Soldier Road.
Police are investigating and are appealing to members of the public who may have any information regarding this or any other incident to contact police.
Two men stabbed up last night…Backwoods and Purple Haze again?
Two (2) men are in serious condition after being stabbed multiple times to the body.
The incident reportedly occurred around 10:00 pm on Monday in the area of Market Street north. The pair looked as if they were stars in a famous Jackie Chan movie. They left police scratching their heads as they could not guess if the men were fighting among themselves or if someone committed the act of dicing them with a sharp weapon.
The men are in critical condition.
We report yinner decide!