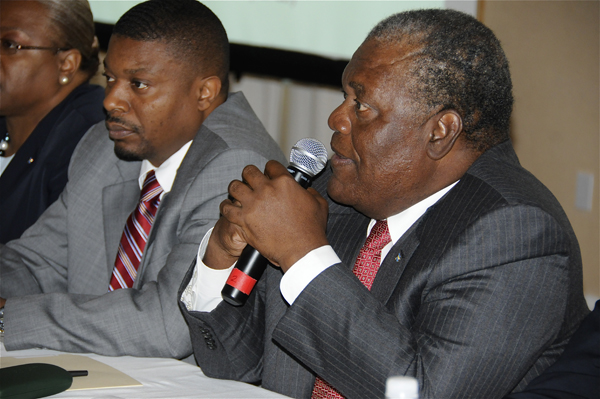 <<< THEY RED AND THEY SCARED – Prime Minister Hubert Ingraham and Junior Minister Zhivargo Laing at an event. (File photo)
In an emergency Cabinet meeting on Wednesday Prime Minister Rt. Hon. Hubert Ingraham indicated to his Cabinet colleagues that it is possible that he will not seek a fourth term as Prime Minister.
Bahamas Press has learned that Ingraham told members of his party that the time has come for a successor to sit ready for the BIG DAY!
On May 2 the Ingraham government will celebrate its second year in government, which has been hampered with a slow start. Stalled by a global recession the FNM government is finding it difficult to manage major job losses and business closures in the country. With unemployment now pegged above 12%, Ingraham assured his colleagues that the time for transition is near.
The Prime Minister however is running full steam ahead with his unemployment relief package, which will began later this month. Registration for the programme will begin this Saturday, April 11th.
Opponents to the Ingraham government suggest that the Bahamas will be a fully operational welfare state by he end of Ingraham's term, suggesting that no one but Ingraham has brought this disaster and pain to the Bahamian people. "They've removed the people from the dreams of prosperity foreshadowed under the one-term Christie government, where thousands were employed but now have lost their homes, jobs and business in this country."
The party opponent suggested that it is possible Ingraham's failures will be seen through generations of Bahamians unborn, where he has hung a noose of debt around their neck. "Ingraham has borrowed in 2 years, what it took Pindling to borrow in 20 years, however the infrastructure produced by Pindling against Ingraham's 2 recent years is like night and day."
Sources in the FNM are also confirming that it is possible that the party will begin its leadership transition this November at party convention, just days after the PLP conclave. However party insiders are said to be begging Ingraham to stay on.