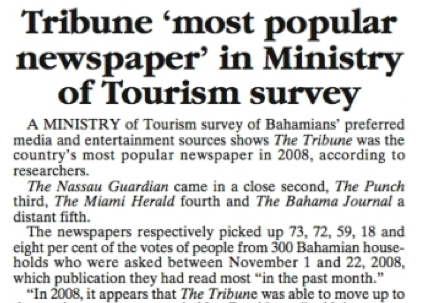 When we were directed to this article we could not believe what we were reading. The Ministry of Tourism, yes the same people who went down to Inagua and didn't know what the best kept secret is, now suggests that the Toilet Paper is the most popular newspaper in the country.
Now hold it! Could someone please slap the hell out of us for day dreaming? Are we seeing what is being said here? The Toilet Paper is Number ONE BY THE MINISTRY OF TOURISM? No wonder why the MOT is catching so much HELL and cannot attract tourist to these islands. One would believe tourism officials would be working overtime to find out what GUESTS READ. And what are the popular papers in Europe and in North America. NOT asking Bahamians in FARM ROAD what they're reading here in Nassau?
That's like going in the Straw Market and getting a survey on who is the best STRAW VENDOR! WHAT IN THE HELL IS GOING ON IN THIS COUNTRY? You mean to tell us between the minister and his director none of them know guests come from the US and EUROPE and NOT BAIN TOWN AND FARM ROAD? As Joe Blow once said on this blog, "Lord keep your hands upon our shoulders and our hand on our lip." Cause it looks like when you need a DONKEY in this country dese days, just call up the Ministry of Tourism.