<<< Anthony Allens, Port Chief.
Click to listen to a ZNS report telling us how Ingraham will fire a BLOATED Civil Service. Ingraham says he's not firing anyone. NO, he's just sending them home for good!
Nassau, Bahamas — Breaking News now coming to Bahamas Press confirms what we warned early in the year. A mass layoffs exercise in the civil service is now underway by the FNM government.
Bahamas Press has learned four senior officers in the top management at the National Insurance Board have felt the axe of Hubert Ingraham's government on Monday. Sources deep inside NIB told BP that senior assistant director Anthony Curtis and assistant directors Merliciana Bethel, Andre Bethel and Cecile Bethel were all fired Monday.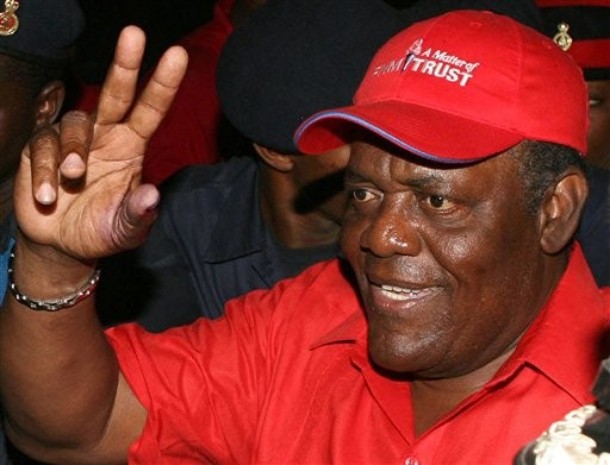 The firing exercise at NIB is said to be the beginning of things to come from Ingraham's FNM government. Derek Osbourne, a Montserrat national, is said to be advising the PM on his decision to roll heads of Bahamians at NIB.
Another department, where news will soon come of more terminations, will be at the ministry of tourism. BP can now confirm that more than $3 million has been cut from the budget assigned to staff salaries. Our deep throat at MOT confirms that the cuts will be severe and hard for some to handle. "Some will be sent home outright, some others will be retired, as Ingraham tell us 'it is what it is.'"
And today, former defense force officer and Port Chief Anthony Allen will spend his last day on the job this Tuesday, as Hubert will also send him home on July 1st. Earl Deaveaux announced on last week that Patrick McNeil will takeover the port department. Allen at age 17 joined the Royal Bahamas Defense Force and was one of the survivors who sailed on the Flamingo, which came under attack by the Cubans. Today Allens, who was a rising star on the RBDF, will feel the payback from an unthankful leader [INGRAHAM], who disrespects people who put their life on the line for country. SHAME ON YOU HUBERT!
Yes Ingraham in an address at a meeting with public officers on last week said, "We're not firing anyone" [Listen to the audio above]. But today Ingraham is not firing anyone, he is just sending persons home. And whilst he is sending them home one by one, group by group, his longtime law partner Perry "Pussy CAT" Christie sits quietly and says nothing. Christie also had these names today during the sitting of the House, but he too like Hubert would never defend the people of this country. Christie is busy creating chaos within his own party, WHAT A DAMN SHAME!
Oh, in case your thought we forgot, members of the WUTLESS MEDIA are also very quiet on the workers now being axed by Hubert. WHAT A DOUBLE DAMN SHAME!