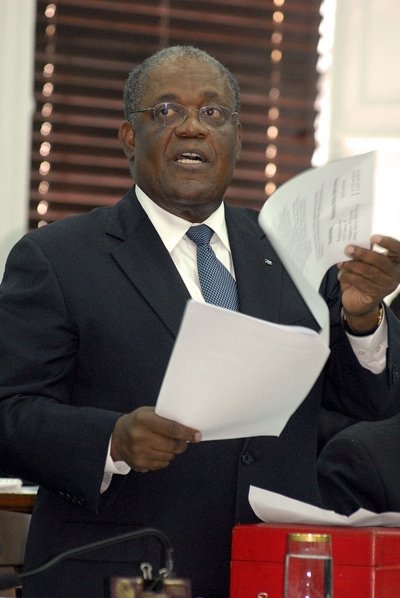 <<< Prime Minister Rt. Hon. Hubert Ingraham.
Part One of Ingraham's Contribution.
Part Two of Ingraham's Contribution.
Part Three of Ingraham's Contribution.

Our Prime Minister Rt. Hon. Hubert Ingraham proved today, why he was elected to be Prime Minister of The Bahamas. He came out swinging as he defended his government's record, looking back into the years when Christie was in power. And boy, he sure painted a scary picture.
He landed a GUILTY verdict on the PLP for being the first to organized  STOP, Cancel and REVIEW policy after the 2002 elections. He defended charges against his government and noted that not one development project signed by his government had stalled.
He reminded the parliament how Christie, with the whole Cabinet present, preempted the newscast of ZNS to announce that BahMar project as a done deal. Yet he asked, why did the deal not go through?
He questioned why was not a single school built in the country in 5 years by the Christie administration? And highlighted the poor condition scores of dilapidated government buildings left in by PLP in 2007. Ingraham asked, what did the PLP do with all the government money they burrowed to fix and do these things during their term in office?
"You will never here them [PLP] accept responsible for anything," Ingraham said, adding that the PLP were bold to convince the people of the Bahamas that they were new, and after 5 years of ineffective governance, the people of the Bahamas realize they were much worse than the old PLP.
The Prime Minister confirmed that a substantial number of government vehicles will be sold, questioning, "Why are so many vehicles on the streets during the weekend?" Ingraham also noted that he is also astounded at the high overtime paid to some in the government, and promised that that it will soon change.
Ingraham then turned to Christie once again said that he [Christie] cannot speak for the poor, "You are not one of us!" he [Ingraham] cried repeatedly in the parliament. "There are some people who don't know when to go! I know when to go, but I ga be right here next time around."
Ingraham once again proved what a powerful debater he is. Again, today in the House, he proved how convincing his voice can be.