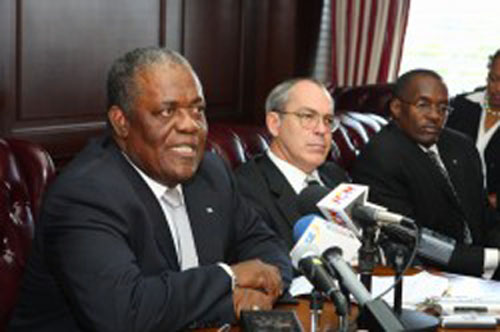 Prime Minister Hubert Ingraham addressing the media in the country.
A source close to the Ingraham government confirmed to Bahamas Press over the weekend that Prime Minister Hubert Ingraham will announce a cabinet shuffle just prior his tabling the 2008/9 budget this June to Parliament.
The source told Bahamas Press that it is certain that in the change will come the reassignment of Minister of State for Finance Zharvigo Laing out of his junior ministry in Finance to an appointment as a minister of the government. "Zhivargo certainly has a future in the cabinet, however to cushion any impact of 'Mona Vie' scandal would have had whilst he was assigned in the ministry, the PM will remove the junior minster and this, would be less of an issue." the source said.
Also moving up the chain would be the new Attorney General in the AG office Hon. Desmond Bannister as senator Cleare Hepburn will announce her leave from active politics. This move will also leave a void in the senate. "That replacement is also expected to be announce shortly after her departure," the source said.
The source also noted that prime minister will appoint Hon. Carl Bethel the current minister of education as leader of government business in the House. "This move will releave current minister of national security Hon. Tommy Turnquest of those current duties, in order to place full attention on the raising crime problem in the country.
"The 2008/09 budget expected to be tabled in the House of Assembly in June, and in it we will present the most exciting economic incentive ever seen, particularly the average small business, we will deliver real help and hope to the country." The source concluded.