Eleutheran to be Laid to Rest in New Providence this Saturday….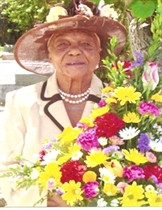 Nassau, Bahamas — Bahamas Press with sadness join the people of James Cistern, Eleuthera on the passing of 94-yuear-old, Bernice Johnson, a strong Bahamian woman who planted her roots in the community.
She met and married Hubert 'Moneyking' Johnson, who at the time was considered The Mayor of the community.
A Methodist by faith, Bernice was a God-fearing woman.
Bahamas Press in prayer bids farewell this humble child of God as she will be laid to rest this coming Saturday, 6th of September, at the Ebenezer Methodist Church on Shirley Street at 11AM.
To the Children, Joyce, Francis, Lennis, Raymond, Clunis and Elaine: may God's Peace by with you in this time of bereavement and may the angels of the God she served and devoted her life to receive her in that great city of joy. Felicity now and forever more…Amen!