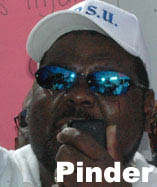 Nassau, Bahamas — A big fight in McDonalds yesterday almost ended up into mad brawl as two BIGTIME FNMs had to be separated by security.
The incident frightened young Ronald McDonald breakfast goers at Thompson Blvd. location, as BPSU President/ FNM supporter, John Pinder, almost came to blows with FNM political henchman Aaron KIKI Knowles. Both men were locked in a dangerous row, which could have forced Rodney Moncur to exercise his JP powers and declare a winner.
Restaurant regulars tell us, the incident took place before a group of morning coffee goers. Knowles was having breakfast when suicidal Pinder entered the establishment throwing remarks at the sleepy looking Knowles.
Sources added, Pinder then began accusing his FNM colleague of conspiring along with the outgoing Ingraham government, to have him [Pinder] voted out as president of the BPSU. Suicidal Pinder began getting nasty and started screaming to the top of his voice as if he was ready to pin Knowles into the cement like a nail.
Sources said, it was then when Knowles went on the defense for the Party and began telling Pinder how his out-of-control attitude was the same reason why the union voters wanted him out.
Well, Pinder snapped and lost his cool. In response he began slamming on the breakfast table as if he was a judge sentencing a convict to death. He began wildly gesticulating his hand in the face of sleepy Knowles, who at that time began to fan the feud.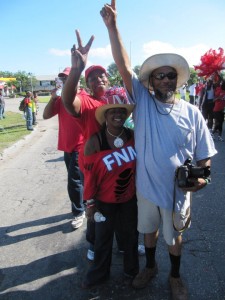 Pinder we are told was prepared to take the fight outside and lay a vicious 'cut yinner know what' on the pensioner.
Lucky for Knowles, McDonalds posted its 6 foot 4 inch tall security on duty Friday morning, who quickly moved to the area where the commotion started and ordered the two men to remove themselves out of the busy area and take their fight on the outside. Both men separated and went their way.
Young COB students sat in shock during the ordeal and cried shame on the men, who by this time had frightened several young children out of the dining area and into the bathrooms.
The breakfast table is a known hot spot for hardcore FNMs in the morning, but lately even Rodney Moncur has avoided the area as violent arguments against him have been sparked by the same individual [Knowles]. And because of the repeated morning ruckus, Moncur has suspended his visits to McDonald and have beefed up his protests against crime.