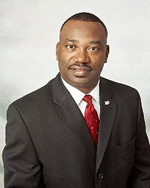 The Progressive Liberal Party is shocked and incensed that Jr. Ministers Byron Woodside and Phenton Neymour were egregious in their failure to take immediate action on a very serious complaint of major Sewer leak in a highly populated section of his Pinewood Constituency by residences in Pinewood Gardens despite repeated request for help by Woodside and Water & Sewerage Corporation.
As reported in the Nassau Guardian on Saturday February 19, 2011 " A sea of filth now sits in the middle of Pinewood Gardens as an excess valve at the failed Water & Sewerage Corporation well continue to spew contaminated water for weeks. Water gushes out of the pipe around the clock at the Buttonwood Avenue location, turning the once placid pool inhabited by ducks and other wild life into a polluted soup in which countless mosquitoes breed."
Residents of Pinewood Gardens expressed grave concern of seepage of the sewerage into the water table which is very high in the subdivision and the pollution of the water used by those with ground wells. There are reports of the area being so polluted that rodents stay away.
The PLP demands an immediate independent inquiry in to this very serious fiasco and that the Ministry of Health conduct a thorough examination of the areas concerned including the impact on the water table and the results be made public.
Former Senator Audley Hanna recently complained of a similar incident in the Constituency of South Beach which remained unaddressed for weeks, despite having brought the issue to the attention of the MP for South Beach. Jr. Minister Phenton Neymour is a self-acknowledged expert in Sewerage and foul smelling water.
This so call self-proclaimed tried and proven FNM government disgracefully ignored the cries for help from the people of Pinewood Gardens and only started to take some corrective action after same was brought to their attention by the press. The Water & Sewerage Corporation collects reasonable Sewerage Fees from the residences of Pinewood Gardens and is mandated to provide quality maintenance of its Plant and equipment to insure that residences lives are never endangered.